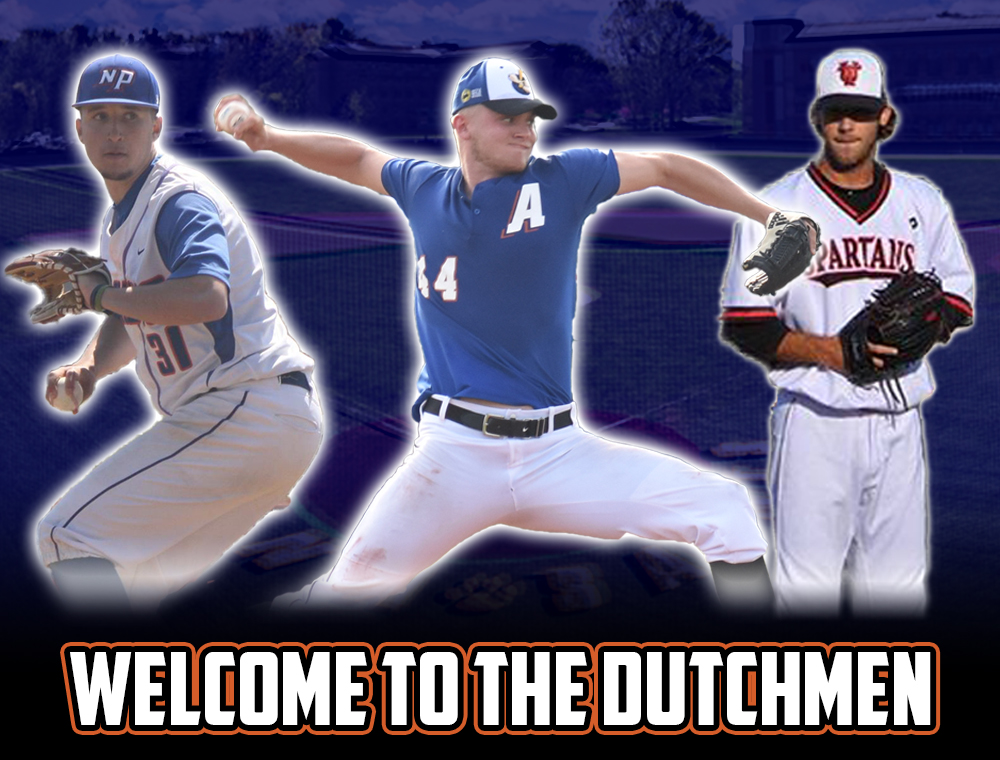 ALBANY, N.Y. – The Albany Dutchmen completed their roster for the 2019 PGCBL season with the addition of three junior pitchers. Ryan Greco (Brockport) returns for another season at Connors Park alongside newcomers Anthony Amoroso (SUNY New Paltz) and Colton Widdows (Tampa).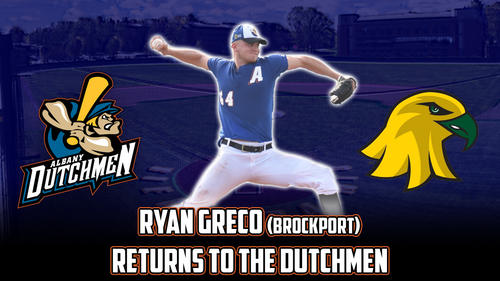 A 6'6" right-handed pitcher, Ryan Greco returns for his second straight season with the Dutchmen. The junior from SUNY Brockport pitched in eight games last summer, starting in three of them, and recording 35 strikeouts over 24.0 innings. His impressive performance earned him a spot on the PGCBL All-Star roster last year. So far this season, Greco has appeared in nine games for the Golden Eagles, striking out nine batters in 11.1 innings out of the bullpen. The Camillus, New York native also previously pitched for the Onondaga Flames in the 2017 PGCBL Season, pitching in 14 games and striking out 24 batters in 16.2 innings. A graduate of West Genese High School, Greco was ranked the 13th right-handed pitcher from New York by Perfect Game in 2015.
"Ryan is a young man who is returning to us this summer with a purpose and 'will' to get back to where he was when he left us last summer," said Dutchmen Head Coach Nick Davey. "He has all the physical tools to be able to return to campus and be ready to lead the pitching staff at Brockport if he commits himself to the process. As a coach I'm very happy to have a PGCBL all-star returning, but for him I just want him to come here and get the passion to compete back. When he left us, his confidence was very high and that's my job to get him back there. When he's right he'll have one of the highest swing-and-miss stuff on our staff. I love guys that return with a goal because it keeps them accountable on a daily basis."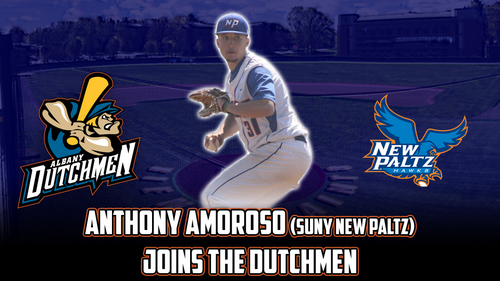 Anthony Amoroso is a a 6'2" right-handed pitcher, who has made at least nine appearances in each of his three seasons with SUNY New Paltz. This season, the junior has recorded 16 strikeouts in 25.0 innings. Last summer, Amoroso pitched for the D.C. Grays in the Cal Ripken league, finishing with a 3-1 record and 2.22 ERA in 32.2 innings pitched. A graduate of Monroe-Woodbury High School, Amoroso earned multiple accolades in his high school career, including third team all-state honors and team MVP honors.
"Anthony comes to us after leading a pitching staff this spring as a junior at SUNY New Paltz," said Davey. "I know if you asked Anthony he would tell you his school season was not as successful as he hoped for and I know just from the few conversations we had he is coming to Albany with a purpose this summer. He will give us nothing but experience with this young staff – and over my 10 seasons of doing this I've realized that upperclassmen who come to summer ball with a purpose are the ones who reap the most reward."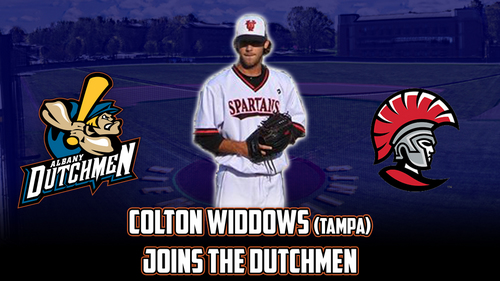 A 6'0" left-handed pitcher, Colton Widdows becomes the fifth lefty to join the Dutchmen pitching staff this season. Over 55.2 innings during his freshman and sophomore seasons, Widdows allowed only 43 hits and struck out 41 batters, while recording a 2.45 ERA working mostly out of the bullpen. After an injury interrupted his junior season, Widdows has begun working his way back into form, appearing in four games this season for Tampa, starting one, and recording six strikeouts in 4.1 innings. A graduate of Dunedin High School, Widdows was ranked the 20th left-handed pitcher in Florida by Perfect Game in 2016. He joins Dutchmen pitchers Ben Seiler and Greg Allard as players to throw a no-hitter in high school.
"Colton was one of the last additions to our current roster, and I'm pretty sure we found a late gem," said Davey. "He is fully healthy for the first time in over a year and is coming here to work himself back to the guy he was who got 50-plus innings as a freshman for the D2 power program at the University of Tampa. Colton will be a rotation guy for us when he arrives. I'm just happy to give him the opportunity to complete again now that he's healthy. I expect Colton to really take off and compete for us every fifth or sixth day."
Albany starts the 2019 PGCBL season on the road Friday, May 31st at 7:05 p.m. against the Saugerties Stallions. The first home game for the Dutchmen is on Saturday, June 1st at 5:05 p.m. against the Glens Falls Dragons. For ticket information and more, visit dutchmenbaseball.com.