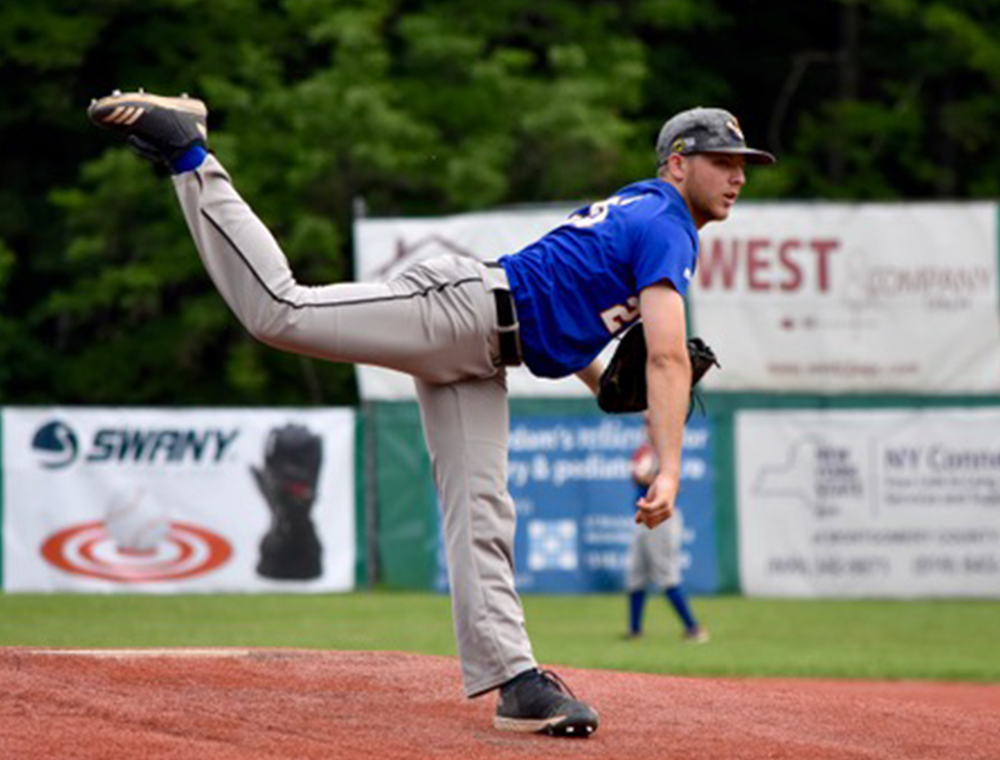 AMSTERDAM, N.Y. – The Amsterdam Mohawks (17-3) win off a walk-off walk and defeat the Albany Dutchmen (11-10) 3-2.
Nick Grabek (Fairfield) got the start for Albany and allowed three singles in the first resulting in two runs off an RBI single by J.D. Mundy (Radford). Grabek over the next five innings struck out seven Mohawk hitters and issued only one walk.
"Grabek dominated for six innings," said Dutchmen Head Coach Nick Davey. "He pitched in the middle of the plate in the first but then he went to work."
The Dutchmen scored in the top of the third after Chris Seng (Louisville) maneuvered around the bases. Seng walked, stole second base and then forced a balk to score as he caught the eye of Eric Cerantola (Mississippi State) halfway down the baseline.
Albany struck out five times over the next three innings against Ryan Cardona (Marist). In the seventh Cole Daniels (Kentucky) relieved Cardona and didn't finish the inning. He walked Justin Bench (Ole Miss) who advanced to second off a wild pitch. Mitchell Henshaw (St. John's) brought him home with an RBI single.
In the top of the eighth with the score at 2-2, the Dutchmen had Mike Whalen (UAlbany) and Luke Franzoni (Xavier) on second and first with no outs. There were stranded after a strikeout from pitch hitter Josh Hall (Ole Miss), a Seng fly out and Bench hit into a fielder's choice.
"I had confidence putting a hit and run in action with Hall," said Davey. "It backfired and just didn't work out."
In the bottom of the ninth Albany's Jacob Steinberg (Ole Miss) began the ninth and his third inning of work. Michael Turconi (Wake Forest) advanced after Henshaw dropped a soft line drive over his head at first base. Turconi advanced to second after a sacrifice bunt from Paul Franzoni (NJIT).
Cash Crane (Trinity) came in to replace Steinberg and allowed an infield single to Sam Zayick (High Point). An intentional walk loaded the bases, and then Crane walked Kevin Jimenez (New Mexico State) after five pitches.
"The error was unconventional from Henshaw," said Davey. "Crane just didn't make the necessary pitch, but we get them again tomorrow."
The Dutchmen look for revenge in their next game on Saturday, June 29th as the Mohawks come to Connors Park for the first time this season. First pitch is set for 5:05 p.m. For tickets and more information, visit dutchmenbaseball.com.