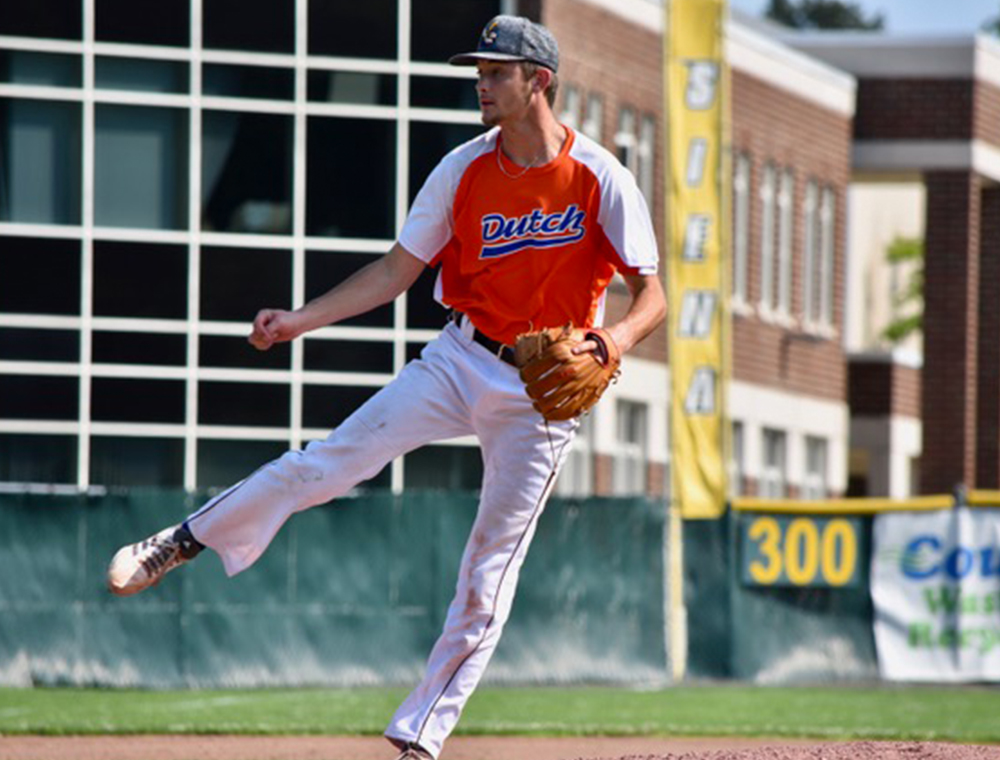 LOUDONVILLE, N.Y. – The Albany Dutchmen (19-12) won game one of a scheduled doubleheader against the Amsterdam Mohawks (26-8) by a score of 4-2. The game was officially called after Luke Gold (Boston College) was hit by a pitch in the helmet. Gold was responsive and alert. He was transferred to a local hospital for further evaluation.
""My thoughts are with him right now," said Dutchmen Head Coach Nick Davey.
The Dutchmen started the game with four runs in the bottom of the second inning. Parker Noland (Vanderbilt) started the scoring with a single to score Tommy Pellis (Seton Hill). Gold and Noland came home to score on a wild pitch and pass ball respectively. Mike Handal (Fairfield) drove in the fourth run for the Dutchmen on an RBI single.
"We had a couple of good at-bats," said Davey. "We exploited a little bit of their weakness behind the plate as well."
The Mohawks started emergency catcher Geordon Blanton (Marshall) behind the plate after a late lineup scratch and the Dutchmen took advantage with four stolen bases.
Amsterdam scored two in the third inning thanks to a Michael Turconi (Wake Forest) two-run double. Those were the only runs that Logan Savell (Ole Miss) allowed to score as he pitched five strong innings with four strikeouts.
"He got after guys early in the count," said Davey. "When he's right, he's really good."
The game was officially called in the bottom of the fifth inning after Gold was hit in the helmet. After Gold was transferred to the hospital, umpires and coaches officially called game one and suspended game two to July 28th.
Albany plays the Glens Falls Dragons tomorrow at East Field in Glens Falls. First pitch is set for 7:05 p.m. The next Dutchmen home game is a doubleheader against the Dragons on Saturday, July 20th. First pitch for game one is set for 3:00 p.m. For tickets and more information, visit dutchmenbaseball.com