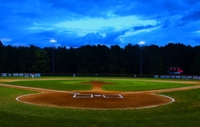 The 2021 Perfect Game Collegiate Baseball League season is under a month away, and the Dutchmen are excited to take the field on June 3rd at the Glens Falls Dragons. However, when they make their way back for their home opener on Saturday, June 5th, they'll be doing it in a new location: Dutchmen Field at Roger Keenholts Park in Guilderland.


After working closely with the Guilderland community to bring this plan to life, the Albany Dutchmen are excited to begin this new chapter. "Over my 11 year career with the Dutchmen, the Guilderland community has been one of the communities that has supported us the most when it came to host families, fans in the stands, and little leaguers as baseball buddies," explained Dutchmen Head Coach Nick Davey. "To give back to a community that has meant so much to me throughout my own baseball experience is really gratifying."


It's not just Coach Davey with Guilderland ties. Dutchmen Vice President & General Manager, Jason Brinkman, grew up in Guilderland and smiled as he talked about "this incredible opportunity to be back and give back to the town I grew up in." In addition to continuing to work with a community that has meant so much to the franchise, personally and professionally, Brinkman is excited about what the Dutchmen game experience can be in its new home: "We're thrilled to partner with Guilderland Baseball & Softball to be able to play at their complex this summer. Dutchmen Field is a first class facility in a beautiful location that will not only give our players one of the best playing situations in the league but will also provide our fans with a relaxing and family friendly environment to enjoy a game."


It's a recipe for an ideal summer baseball home and, as Dutchmen owner Paul Samulski said, "This is the perfect place to allow our fans to enjoy the full Dutchmen experience. We couldn't be happier." Part of that experience this season will include chair back seating, picnic tables, and a perched general admission seating area along the 3rd base line for a Bring-Your-Own-Chairs and/or blankets section, so there's a seating option for every group and maintain social distancing. In addition, the Dutchmen will be returning to night games, with all single home games starting at 6:35PM. "There is something special about summer baseball under the lights," said Samulski. "There are few better ways to spend an evening with your family and friends."


While the Dutchmen plan to roll out the gameday red carpet, the Guilderland Baseball community is excited about the new partnership as well. What's particularly exciting is that the 2021 Dutchmen roster is comprised of top collegiate talent from all over the country, including players from top 25 ranked teams Vanderbilt (#3), Louisville (#13), and Ole Miss (#22), as well as St. John's, Stony Brook, Princeton, and Fairfield. "The original intent and design of this facility was for players of this age and caliber," said Mark Blaauboer, the facility manager at Dutchmen Field. "This is the perfect surface and setting for the players."


It's also the perfect opportunity for fans to see homegrown local talent compete with players from the aforementioned top-25 programs. The Dutchmen roster features a large number of Albany natives and returning Dutchmen players, as well as players from UAlbany, Siena, and RPI. It's a pairing that has Don Chrysler, President of Guilderland Babe Ruth, excited: "The quality of play on the field will be tremendous. Add to that the fan friendly surroundings and amenities, and you have a great place to play and watch a game."


After a year off, it's great to have the PGCBL back, and it figures to be a summer of baseball that you won't want to miss. The Dutchmen will open their season at the ballpark on Saturday, June 5th, with a double header vs the Saugerties Stallions beginning at 5:00PM.



Dutchmen Field at Keenholts Park is located at 4702 Hurst Rd, Altamont, NY 12009. The PGCBL is a summer collegiate wood bat league featuring top players from all over the country. For full schedule, individual game & season tickets, and roster details, please visit DutchmenBaseball.com. Additional Covid and attendance protcols will be announced prior to Opening Night.