By: Dutchmen Front Office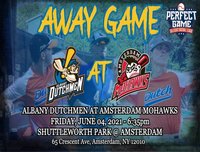 The Albany Dutchmen lost their first complete game to the Amsterdam Mohawks 2-1 on Tuesday, June 4th in Amsterdam. Pitching dominated all day long as both teams combined for eight hits on the day.


Ryan Yerby (RPI) and Teddy McGraw (Wake Forest) started on the mound and both dominated. Yerby threw four innings while allowing one run and one hit along with three strikeouts for Albany, while McGraw surrendered the same amount of hits, runs and struck out the same amount of batters but in three innings of work.


Amsterdam's bullpen did not allow a run in six combined innings and the Mohawks arms also struck out eleven batters. Albany's relievers Freddie Callo (HVCC) and Tristan Nemjo (Hofstra) threw two innings apiece and Nemjo struck out four of the six batters he faced without surrendering a hit. The only player from either team to have multiple hits on the day was Nick Schwartz (St. John's) who was 2-3 with the lone RBI of the day for the Dutchmen.


Albany opens up their brand new home field of Dutchmen Field at Keenholts Park tomorrow at 5:00 for a doubleheader with the Saugerties Stallions.
|
Back to index...