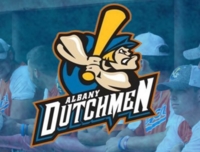 Tuesday's double header vs Glens Falls Dragons has been cancelled due to weather. Both games have been rescheduled for dates later in the season in which the Dutchmen will be playing in Glens Falls.

Game 1 will be made up on Thursday, June 10th, starting at 5:30 pm. This game will be the resumption of the game previously postponed due to weather on June 3rd. The game will resume in the 5th inning with the Dutchmen leading 10-1. Game 1 will be played through a full 9 innings, while the second game on the 10th will be 7 innings.

Game 2 will be made up later in the month on Sunday, June 27th. This will be played as a double header with both games scheduled for 7 innings. Action will get started at 5:00 pm.

The Dutchmen will return to action with the double header against the Dragons on Thursday, June 10th. Albany will then play Saugerties on the road Friday, June 11th, before returning home for a double header against the Amsterdam Mohawks on Saturday, June 12th at 5:00 pm.