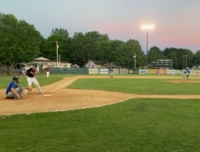 Thursday, June 10th, in Glens Falls was slated for a nine inning game resuming in the fifth of a previously postponed game, as well as a seven inning game between the Albany Dutchmen and Glens Falls Dragons. The Dutchmen have been struggling the past few days but picked up where they left off with a 10-1 lead from June 3rd turning into a 23-2 win, to go with a 5-1 win on Thursday evening,
The 23-2 win featured multi-hit games for over half the Dutchmen order as well as multiple pitchers dominating. Ryan McGee (Siena) and Tom Kretzler (Brockport) each contributed two hits as well as four RBIs to lead the Dutchmen offense. Chase Carroll (UAlbany) and Logan Beard (Louisville) contributed three RBIs apiece with the former contributing three hits and the latter adding two hits.
Anthony Amoroso (New Paltz) threw four innings allowing just one run on opening night, June 3rd and put the Dutchmen in a good spot to complete the win on Thursday, June 10th. Jack Mahoney (Manhattan) essentially got the start on Thursday, as he took the mound to start the resumed game. Mahoney threw 3.2 innings allowing one run and seven of his eight outs came in the form of strikeouts.
Dutchmen dominance continued in the second game of the night in the form of a 5-1 win. Division III Player of the Year Adam Zebrowski (St. John Fisher) made his Dutchmen debut and made his presence felt in a 1-2, 2 RBI night. Logan Beard (Louisville) had his second two hit game of the day as he was 2-2 with a RBI.
Albany's pitching continued to be brilliant as Ryan Yerby (RPI) threw four shutout innings allowing just two hits and Michael DiMartino (Fairleigh Dickinson) and Adam Bogosian (Lafayette) combined for three innings of work allowing one hit and one unearned run.
Albany (3-4) continues the road trip at Saugerties on Friday, June 11th, at 7:05, and the Dutchmen get back to Dutchmen Field at Keenholts Park for a doubleheader against the Amsterdam Mohawks on Saturday, June 12th, beginning at 5:00. Glens Falls (1-4) takes on Mohawk Valley in Glens Falls Friday night at 7:00.