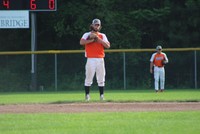 Saturday, June 19th (GUILDERLAND, NY)-- The Albany Dutchmen swept a doubleheader against the Glens Falls Dragons by scores of 5-0 and 5-1. Dutchmen pitchers dominated in both games as Albany carried a combined no hitter into the final inning of game one, and all five pitchers combined to allow five hits and one run in fourteen innings.
Two separate two run home runs led the Dutchmen to victory in game one, with the first coming off the bat of Kyle Vinci (Princeton) in the 2nd inning and the second coming from Adam Zebrowski (St. John Fisher) in the 4th. Isaac Humphrey (Louisville) and Will Stroud (Azusa Pacific) each contributed a single and a double apiece to the Dutchmen effort, and Nick Schwartz (St. John's) added two doubles in game one.
Ben Seiler (Siena) shined on the mound in game one for the Dutchmen as the tall lefty threw five no hit innings while striking out five. Luke Lyon (Ole Miss) made his Dutchmen debut out of the bullpen in the form of two shutout innings while allowing just one hit and striking out three to help the Dutchmen claim game one 5-0.
Glens Falls scored their only run of the day in the 2nd inning of game two as Michael Gorman (Chapman) hit a sacrifice fly that scored Jack Defayette (UAlbany) for the Dragons to take a 1-0 lead. Albany bats dominated from there but also got some help from the Glens Falls defense in the form of four errors. Ryan McGee (Siena) and Tom Kretzler (Brockport) each added a single apiece for the Dutchmen in game two, while Mike Handal (Fairfield) and Johnny Decker (Stony Brook) each added a double.
Both pitchers out of the bullpen for Albany in game two both made their season debuts in the game. Mitch Murrell (Ole Miss) and Colin McVeigh (Fairfield) combined for four shutout, one hit innings and eight of twelve outs came in the form of strikeouts.
Albany advances to 7-8 and on a three game win streak as lots of key players made their debuts over the weekend, and the Dutchmen seem to be rolling into winning ways. Albany plays next Monday, June 21st in Oneonta at 7:05, and return home the following day Tuesday, June 22nd at 6:35 against Glens Falls.