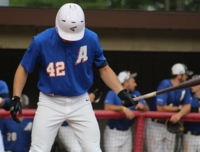 Monday, July 26th (Amsterdam, NY) — The Albany Dutchmen beat the Amsterdam Mohawks 6-4 on the road on Monday night. With the win, the Dutchmen moved to 20-21 on the year.
Amsterdam jumped out to an early lead in the first inning. Matt Shaw (Maryland) scored on an error to give the home side the 1-0 lead.
The Dutchmen would bounce right back however. In the top of the second, Mike Handal (Fairfield) scored on a double play making the score 1-1.
The Mohawks would then break the tie in the bottom half of the third inning. CJ Funk (Pitt) drove a double to center field which brought home a run making it 2-1.
Albany would roll from there. In the fourth inning, Tom Kretzler (Brockport) drove a two run home run to give the Dutchmen the 3-2 lead. That blast was his seventh of the year, good for second overall in the PGCBL.
The Dutchmen would later extend the lead in the sixth inning. George Rainer (RPI) scored on an error which was then followed by Kretzler, who continued his strong outing with an RBI double that drove in one. Isaac Humphrey (Louisville) then joined in on the fun with an RBI single to make the score 6-2.
The score would remain that way until the ninth inning. The Mohawks brought two runs home on a single from Davis Meche (Mississippi St) making the score 6-4, but that is all they would get.
The Dutchmen will return home tomorrow for their home finale. They take on the Oneonta Outlaws at 6:35 pm.