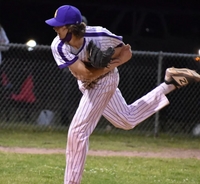 The seventh group of Albany Dutchmen player announcements for the 2022 season is composed of a trio of pitchers; Aidan O'Connor (St. Thomas Aquinas), Ryan McCarroll (Wheaton), and Mike Maratea (Ramapo).
Aidan O'Connor is the teammate of '19 Dutchmen Aaron Dona (who currently leads the ECC in strikeouts), and says that his talks with the former Dutch played a key role in his decision to come to Albany this summer.
"Aaron said the relationships he built in Albany are something he'd never forget and something he'd cherish forever, so I'm looking forward to meeting the guys and the coaching staff and building personal relationships with everyone," said O'Connor.
Ryan McCarroll is a Capital Region native, claiming Clifton Park as his hometown, and a graduate of Saratoga Catholic where he struck out 57 batters in 25 innings as a senior, a season that he says is unlike any other.
"I felt like I was always in a groove, whatever I was throwing guys were always swinging and missing, I was getting fastballs by kids and in a groove all season," said McCarroll.
Mike Maratea is currently taking classes at Ramapo, but has not thrown in a live game since 2020, and says he is chomping at the bit to get to Keenholts this summer.
"I'm super excited (to pitch in a live stadium atmosphere), I've been training at home for awhile now, I'm ready to get back on the field and face hitters and compete, I'm over the moon excited about this opportunity," said Maratea.
Stay tuned for group eight, coming soon!