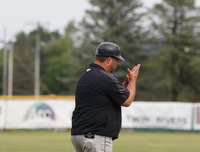 (LITTLE FALLS, NY)-- Albany fell 11-10 at Mohawk Valley on Thursday night, as the Dutchmen were walked off for the second consecutive night.
It was a big early lead for Mohawk Valley, as the DiamondDawgs jumped out to a 7-0 lead after three innings which included a 2nd inning that saw six hits and five runs for the home team. Noah Lucier (Fairfield) picked up a two-RBI single, while five other Mohawk Valley hitters picked up one RBI in the frame.
The 3rd inning RBI double off the bat of Zach Brush (LeMoyne) capped off the huge Mohawk Valley start, but then it became Albany's turn to mash.
Albany got on the board in the 4th inning as Austin Bode (Louisville) notched a two out RBI single to cut the deficit to six runs.
Matt Bergevin (Fairfield) blasted a grand slam in the 6th that would serve for all four Dutchmen runs in the frame, as Albany suddenly trailed by two courtesy of one swing.
Albany plated a run in four straight batters, which would see a Dutchmen lead on the flip side of the rally. Caden Shapiro (Princeton) picked up the RBI double, and Max Gebauer (Franklin Pierce) had the game-tying single to even the game. David Silva Jr. (Ohio Dominican) and Tyler Young (Lehigh) picked up back-to-back sacrifice flies to put the visitors up 9-7.
Max Gebauer (Franklin Pierce) added an insurance run on a sacrifice fly in the top of the 9th, but Mohawk Valley was not out of this one quite yet.
A leadoff walk was neutralized by back-to-back outs, as it was a two run Dutchmen lead with one out and a man on first base before Mohawk Valley rallied. Back-to-back singles from Mohawk Valley's 8th and 9th hole hitters resulted in an Ethan Valdez (Springhill) RBI. The lineup flipped over to the top, and Evan Berta (Fairfield) picked up his first hit in his six at-bats of the night, and there was no bigger time to do it as his two-RBI double tied the game up, but a big strikeout stranded Berta as the game headed to extras.
Albany drew a pair of walks in the 10th, but was unable to scratch across a run before a Noah Lucier (Fairfield) RBI single walked things off for Mohawk Valley.
The Dutchmen road stand wraps up Friday at Saugerties, as the Dutchmen are slated for a 6:35 first pitch against the Stallions.