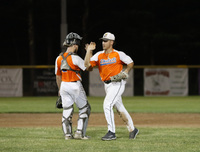 (SAUGERTIES, NY)-- Albany Dutchmen picked up a win in the final game of 2022 by a final of 10-5 over the Saugerties Stallions. The win marks the final one of Nick Davey's 13 year tenure with the Albany Dutchmen.
Albany got on the board in the 1st courtesy of a throwing error on a pickoff move, but the error would be the only way the Dutchmen would plate a run in the first six innings of the ballgame as Saugerties carried a 4-1 advantage into the 7th.
The entire game flipped in the top of the 7th in a seven run Dutchmen frame that resulted in a 8-4 lead. Nick Plue (Manhattan) served an RBI double to kickstart the inning, Chance Checca (Herkimer) and Caden Shapiro (Princeton) picked up RBI singles, and the game became tied at 4. Nick Schwartz (SNHU) knocked in two runs with a single, Anthony Raimo Jr. (St. Bonaventure) picked up his team leading 25th RBI, and then Plue came back again for his second RBI of the Dutchmen rally.
Albany added two more runs in the top of the 8th as Tyler Young (Lehigh) became the sixth Dutchmen to pick up an RBI on the evening, and Nick Schwartz (SNHU) capped off his 3-3 night with his third RBI.
Mike Maratea (Ramapo), Chase Carroll (UAlbany), and Jack Wren (Marist) combined for a stellar bullpen outing; 5 innings, 2 earned runs, and 8 strikeouts.
Albany finishes the 2022 season at 22-24, and the Dutchmen would once again like to thank Coach Davey for his 13 years of commitment to the franchise and wish him best of luck in his family focused future.