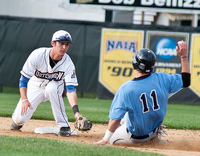 As the final moments drew closed on yet another Major League Baseball draft, the Dutchmen, and other members of the PGCBL, were thrilled to see the continued success of their former players. After thirty PGCBL alumni were drafted in the 2012 draft, the league improved on it's total this year, with thirty-two former players being drafted. Included in that are two former Albany Dutchmen: Brandon Trinkwon and Will Remillard.
On Friday night, UC-Santa Barbara shortstop Brandon Trinkwon (cover photo) became the highest drafted former Dutchmen after he was selected by the Los Angeles Dodgers in the 7th round. The shortstop for the Dutchmen during the 2011 summer, Trinkwon hit .299 in an Albany uniform, knocking in 14 runs, stealing 14 bases, compiling a .388 on-base percentage and being named a league All-Star. The junior finished the 2013 season with a .280 batting average, four home runs, 37 RBIs, ten stolen bases and a .367 on-base percentage. A Baseball America Preseason All-American, Trinkwon was named 2nd team All-Big West in 2012 and 2013 and was named the top defensive infielder in the country in an analysis piece of all the All-American teams.
Remillard was a two-time Dutchmen, playing for the team in 2011, where he was a teammate of Trinkwon's, before joining his brother, Zach, on the team last summer. During his first go-round with the team, Remillard hit .297 with four home runs, 24 RBIs and six stolen bases. When he returned last season, Remillard was equally as effective, hitting .280 with three home runs, 18 RBIs, and a .382 on-base percentage. In his collegiate career, Remillard was the Big 5 Rookie of the Year after his freshman season at Temple, before heading off to Coastal Carolina where he had a solid first season, hitting .280 with two home runs and 39 RBIs. He was third in the league in runners picked off, sixth in two-out RBIs and earned a place on the second team All-Big South.
With both players having little left to prove at the collegiate level, it's possible that they could go the way of many other PGCBL alumni and head into the minor leagues. Whatever the case, the Dutchmen are proud to have been part of the careers of these two players and are excited to see the things that they're capable of in the future.