By: Dutchmen Front Office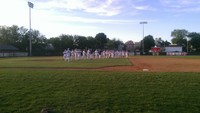 The Albany Dutchmen scored five runs in the 1st inning on Sunday evening and beat the Newark Pilots 6-3 at Bob Bellizzi Stadium, improving their record to 2-0 on the season.

Dylan Collett (Keene State) struck out five in four innings of relief and Luke Nethaway (College of St. Rose) was a triple shy of the cycle, as the Dutchmen earned their second win of the season.

After Newark scored two runs in the top of the 1st, Albany responded with five runs of its own in the home half of the inning. Jack Wietlispach (Niagara University) and Danny Crowe (Elon University) both had RBI singles in the 1st inning, while Connor White (Monmouth College) and Nethaway tallied RBI doubles. Nethaway also added an insurance run in the 4th with a solo homer to left field.

Matt Gallup (Hudson Valley CC) took it from there, going 5-plus innings and giving up just five hits before Collett came on in the 6th inning. Collet did not allow a hit and walked two in four innings of work to seal the deal.

The Dutchmen play at the Adirondack Trail Blazers on Monday night, before returning home to face the Cooperstown Hawkeyes on Tuesday night. First pitch will be at 7:05 PM.
|
Back to index...