By: Dutchmen Front Office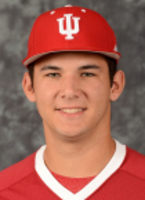 With the final eight NCAA D1 baseball teams punching their tickets to Omaha for the College World Series, the Dutchmen will see themselves represented for the first time in franchise history on two separate squads. After Mississippi State held on to beat Virginia 6-5 on Monday night, Bulldog outfielder Derrick Armstrong joined University of Indiana right-hander Thomas Belcher on his way to Omaha with his teammates in search of a championship.

Armstrong started both games for the Bulldogs in their Super Regional victory over the University of Virginia. The junior was 2-for-6 with one run scored, while being penciled in the designated hitter slot. With one of the more talented pitching staffs in the country, the Bulldogs were contenders throughout the season and could stand a real chance to take home the National Title.

Meanwhile, Indiana, who was similarly impressive throughout the entire season, shocked many people by going into Tallahasee, Florida and beating the Florida State Seminoles in two straight games to earn a birth to Omaha. Belcher had red-shirted during the season, but he was called upon to join the staff as an additional option out of the bullpen due to the increased number of games that each team has to prepare for in such a short period of time.

Although the Dutchmen and their fans are anxious to have both players take the field in an Albany uniform, they will be eagerly watching ESPNs coverage of the College World Series in order to see these two talented players compete for a chance to achieve college baseball's ultimate prize.

The College World Series is set to start on Saturday, June 15th, with the first game being played at 2:00PM, pitting Armstrong's Bulldogs against Oregon State. Belcher's Hoosiers open later the same day against Louisville at 7:00PM.
EDITORS NOTE: After the story went to press, Belcher was informed that due to NCAA compliance issues, he would be unable to remove his red-shirt for the College World Series. He has remained with his teammates in Albany.
|
Back to index...