By: Dutchmen Front Office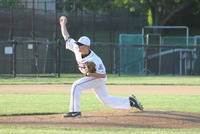 Glens Falls first baseman Braxton Martinez (Saint Louis) drove home the winning run in the bottom of the 16th inning on an RBI single, as the Golden Eagles (13-8) scored a 4-3 win over the Albany Dutchmen (11-6).

The sixteen innings of baseball at East Field in Glens Falls compile the longest game in the young history of the Perfect Game Collegiate Baseball League. The ultra-marathon started just after 7:00 in the evening, but did not end until shortly before 11:30.

Glens Falls reliever Matt Eckelman of Saint Louis was the winning pitcher. He was the fifth pitcher used for the Golden Eagles in the extra-inning affair and threw two scoreless innings to pick up the 'W'. Meanwhile Jose Fernandez (Dean College) suffered the loss for Albany, giving up a run in the second inning of his night. All in all eleven pitchers were used in the ballgame combined between both teams.

Long forgotten in this historic and exhausting competition between the two squads was the excellent job by both starting pitchers. Albany's James Davitt (Bryant) dazzled through 7 innings of play, allowing only two hits while striking out 2 and controlling the Golden Eagles' bats to just one run. Glens Falls starter Riley Stephenson (UMBC) was just as good, if not better. Stephenson allowed two runs on five hits while striking out four Dutchmen batters.

Albany held a 2-1 lead into the 9th before Glens Falls scratched home a run to tie it and send it to extras. The Dutchmen though would get the lead back in the 13th on a controversial infield single by Zach Remillard (Coastal Carolina). Remillard appeared to be thrown out at first base, but was deemed to have crossed the bag before the throw reached first base. However, Andrew Bannon (Skidmore) could not hold the lead, allowing a run in the bottom half of the inning as the Golden Eagles tied it at 3.

For Albany, Chris Suseck (Coastal Carolina) had two hits, including a run scoring double in the fourth. Suseck also crossed the plate in the third for Albany's second run. Anthony Marks (Coastal Carolina) would score in the 13th for the final Albany run. Brad Noland had two hits as well for Albany. Glens Falls was paced by Braxton Martinez's 2 hits, and Martinez also scored a run for the Golden Eagles.

Albany continues their road swing when they travel ninety minutes west of home to play the Cooperstown Hawkeyes at Doubleday Field at 5:05PM. The Dutchmen return home for a Monday evening contest against Glens Falls at 7:05 at Bob Bellizzi Field. It's "Kids Eat Free Night," so all kids that buy a ticket to the game get to eat for free!
|
Back to index...