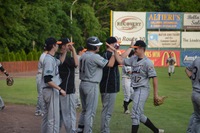 Amsterdam, N.Y.- The rain came and went quickly, but it was enough to suspend the Friday night contest between the Albany Dutchmen (12-8) and Amsterdam Mohawks (13-12).
The game was delayed for over an hour because of rain, and then after another short period of rain immediately following the 9th inning the game was officially suspended. It will be continued on Thursday, July 11th.
Bradley Noland (Univ of North Alabama) hit a two-run home run in the top of the 1st inning to give the Dutchmen an early 2-0 lead.
Brian Ruby (Binghamton) scored the Mohawks' first run in the bottom of the 2nd after a Dutchmen throwing error.
The teams exchanged runs in the 4th inning. Chris Bianchi (Trinity) hit a sacrifice fly in the top of the 5th inning and the Dutchmen led 4-2.
John Sansone (Florida State) tied the game with a two run double in the bottom of the 6th inning. Neither team could get another run across in the final three innings of play.
Dutchmen starter Bryan Carr (College of Saint Rose) pitched four innings. He allowed eight hits and two runs, both unearned. Joe Portukalian (Rhode Island) was a bright spot out of the Albany bullpen. He pitched 3.1 innings of no hit baseball.
The Dutchmen host the Adirondack Trail Blazers Saturday night at Bellizzi Field. First pitch is 7:05PM. It is the 3rd Annual PINK Game, benefiting the American Cancer Society and Susan G. Komen for the Cure. There will be a game worn jersey auction, a huge raffle with great prizes including two trips, and Yankee Trails Baseball Bingo all night!
Nick Belcher, the brother of Dutchmen pitcher Thomas Belcher, will sing the National Anthem at Saturday's game. Nick is a Radio Disney Performer in Jacksonville, Florida. He made the Top 40 in American Juniors and has performed at USC baseball games. He turned down an offer with "The Voice" to pursue his career independently. The Dutchmen are pleased to welcome Nick Belcher to Albany and perform at Bellizzi Field!