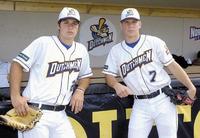 by Ben Fontana
ALBANY, N.Y. - Former Albany Dutchmen and local Cohoes, N.Y. native Will Remillard (Coastal Carolina) has signed a $150,000 contract with the Chicago Cubs. Remillard was drafted in the 19th round by Chicago in the 2013 draft, and officially signed with the Cubs Thursday.
The LaSalle Institute product played in 29 games for Albany last season, and hit .280 with 3 home runs and 18 RBI.
"I'm pretty excited just to start my professional career and see how far I can go," Remillard said. "We'll see how it goes."
Remillard told the Dutchmen that he must first go to Arizona to have an evaluation done on his back before he starts off in the minors. After that, he'll head to the short season 'A' affiliate of the Cubs in Idaho, the Boise Hawks.
The Coastal Carolina product also got the chance to play in the Cape Cod League this past summer in addition to playing with the Dutchmen in 2012. He said no matter what summer league he got to play in, the experience was worth it.
"It helped out a lot because it gives you an opportunity to really to make your skills better and really it is just playing baseball," Remillard told the Dutchmen. "It's more like the minors than playing when you have schoolwork and stuff like that."
Remillard also got the chance to play with his brother Zach while at school and also with the Dutchmen last summer. Zach is still with Albany in 2013, and is excited to see his brother make it to the big leagues.
"You know it's huge just to sign that contract and move on with his career," Zach said. "It's something he always dreamed of growing up and its something we both dreamed of and he put in the work and the effort and he really did what he had to do to get there."
"It was awesome to play together with the Dutchmen," Zach added. "It was my first taste of playing college baseball and having Will there, another set of eyes on me, really helped me through the summer. But today, it's his day, and I'm really proud of him."