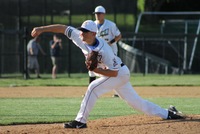 ALBANY, N.Y. – The Albany Dutchmen (19-12) broke a two-game losing streak and defeated the Elmira Pioneers (15-16) Tuesday night behind a stellar performance on the hill by Matt Gallup (Albany). Gallup tossed 7 innings to earn his third win of the season, allowing just 1 run on 8 hits.
The Dutchmen gave Gallup run support early, driving in three runs in the bottom of the second. Matt Dacey (Richmond) started things with a lead-off single, but then Elmira starter Danny Britt (Trinity Christian) retired two straight. However, Albany wouldn't be phased. Derrick Armstrong (Mississippi State) started the rally with a walk, followed by three straight Dutchmen singles.
Luke Nethaway (St. Rose) started the two-out barrage with a single to score Dacey. The next batter, PGCBL all-star Tyler Orris (Millersville), followed with a single of his own to score Armstrong. Fellow all-star Anthony Marks (Coastal Carolina) wanted to get in on the action, and singled in Nethaway to give the Dutchmen an early 3-0 lead over the Pioneers.
Elmira responded in the next half inning, scoring a run on an RBI single by Chris Knott (East Stroudsburg), but that would be all the damage the Pioneers could manage against Matt Gallup. The right-hander allowed just the one run over seven strong, and struck out one.
With a 3-1 lead, Albany added some insurance runs in the 4th. Two-time PGCBL all-star Zach Remillard (Coastal Carolina) started the inning with a single, followed by a Derrick Armstrong double. Nethaway brought home Remillard on a sacrifice fly to extend the lead to 4-1.
Two batters later, Anthony Marks put the ball in play for the 3rd straight at-bat, and legged out a fielder's choice to bring home Armstrong. Albany took a 5-1 lead at that point, and never looked back. On the night, Marks went 3-4 with two singles and 2 RBI.
Mack Naughton (St. Rose) came on in relief of Gallup for the final two innings, and shut down Elmira. He worked a perfect 8th, and then got out of a runners-on-the-corners jam to end the game in the 9th. Gallup got the win, improving to 3-1 this summer. Danny Britt was handed the loss for Elmira. He falls to 2-2.
The Dutchmen hit the road tomorrow to take on the Adirondack Trail Blazers before an off day Thursday. After that, its another road trip Friday to Cooperstown for a non-traditional doubleheader. Albany returns home Saturday, July 20th, to take on Amsterdam in a true doubleheader. Saturday is PGCBL all-star recognition night at Bob Bellizzi Field, and first pitch is set for 7:05 PM.