By: Dutchmen Front Office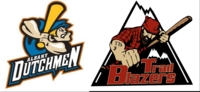 Boonville, N.Y.- The Albany Dutchmen (20-12) powered their way to victory in Game One of a double header at the Adirondack Trail Blazers (14-22) by a score of 19-1. The Dutchmen recorded 15 hits in the game, including three home runs.

Albany's offense got going in the top of 3rd. Anthony Marks (Coastal Carolina) started things off with a RBI single. Later in the inning, Derrick Armstrong (Mississippi State) crushed a two-run home run to make it a 3-0 lead.

The Dutchmen exploded for 10 runs in the top of the 4th inning, highlighted by a three-run home run for Joe Purritano (Dartmouth). Tyler Orris (Millersville College) chipped in with a two RBI single.

Purritano also picked up a RBI double in the 5th inning and a RBI single in the 6th as he went 3-for-4 at the plate with a walk.

Ted Sillis (UNC-Wilmington) hit a two-run home run in the top of the 7th inning to complete the scoring for the Dutchmen.

Bryan Carr (College of Saint Rose) pitched five shutout innings to get the win. He is now 3-1 on the season.

In Game Two, the Trail Blazers (15-22) emerged with a 5-4 win over the Dutchmen (20-13).

Tyler Orris continued to produce at the bottom of the Albany lineup with a RBI single in the 2nd inning.

However, the Trail Blazers scored a run in the bottom of the 3rd and took a 2-1 in the 4th after a Chris Rheaume (Ave Maria) sacrifice fly.

The Dutchmen responded with three runs in the top of the 6th and led 4-2. Anthony Marks and Bradley Noland (Univ of North Alabama) each had timely RBI singles in the inning.

Adirondack countered with a three run rally of their own in the home half of the 6th, and that would give them the lead for good. Rheaume hit a two-run double, and Alex Simone (West Alabama) drove in the winning run for the Trail Blazers.

Albany is off Thursday and then on the road Friday at Cooperstown with first pitch scheduled for 2:00PM. The teams will continue a game that was suspended last month, and then they will play a full nine inning game.
The Dutchmen return to Bellizzi Field on Saturday, July 20th against the Amsterdam Mohawks. It is a DOUBLE HEADER, with the first game starting at 5:05PM. Saturday is Yankee Trails Baseball Bingo, and one lucky fan will win a Yankee Trails trip for 2 to the New York Yankees vs. Detroit Tigers on August 10th. It is also PGCBL All Star Recognition Night, and we will acknowledge the Dutchmen players participating in the All Star Game and Home Run Derby next week.
|
Back to index...