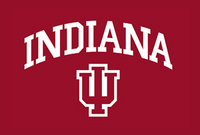 May 16th, 2014
After establishing a successful relationship last year with College World Series participant Indiana, the Dutchmen turned to the Hoosiers again in 2014, adding catcher Demetrius Webb and pitcher Austin Foote for the summer season.

A 5'11" 200 pound catcher from Indianapolis, Webb was regarded as one of the top defensive catchers in his high school class. The right-handed backstop was placed on the Perfect Game All-Region squad, named First Team All-Metropolitan Interscholastic Conference, selected to the Indiana North/South All-Star, was named District Player of the Year and 4A All-Indiana honorable mention. Despite possessing elite defensive tools, Webb also hit .361 during his senior year, with ten stolen bases and a .561 slugging percentage. Playing behind a College All-America catcher Kyle Schwarber, who was voted by Perfect Game and the National Collegiate Baseball Writers Association as the best catcher in college baseball, Webb took a red-shirt year this season, but will come to the Dutchmen with all the tools to make an immediate impact and ready to begin his collegiate career.

Joining Webb in Albany will be 6'3" 180 pound left-hander Austin Foote. The freshman from Lake Zurich, Illinois was ranked in Prep Baseball Report's Top-8 LHPs in Illinois, was selcted First Team All-North Suburban Conference, while also being a Chicago Sun Times second team all-area selection and team captain. He totaled 133 strikeouts in 95 innings pitched and posted a 2.00 ERA, 1.29 WHIP and .210 average against during his final two H.S. seasons. In addition to his athletic skills, Foote also garnered impressive recognition for his classroom work, being given the Prairie State Academic Achievement Award, recognized as an Illinois State Scholar, and also being the Indiana University Scholar-Athlete of the Month in December. After red-shirting this year due to Indiana's deep staff (a 2.30 team ERA), the wiry lefty will bring a fresh arm to Albany for the 2014 season.