By: Dutchmen Front Office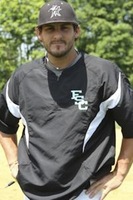 Head coach Nick Davey finalized his coaching staff with the hiring of Framingdale State pitching coach, Kevin Salmon.
A Coastal Carolina alumnus, Salmon pitched for two years at Briarcliffe College and before transferring to Coastal Carolina University, where he was named to the All-Big South Tournament team. At Briarcliffe, he was top five in the nation in strikeouts per nine innings pitched and was selected to the Junior College All-Star team. After his time at Coastal, he signed as a Free Agent with the Philadelphia Phillies and spent two years in the minor leagues with the Batavia Muckdogs and the Lakewood Blueclaws. In 2007, he was named the Spring Training Player of the Year and spent the 2008 season with the Washington Wild Things.
Salmon was hired as the pitching coach at Farmingdale State before the 2013 season and experienced immediate success, leading the pitching staff to a Top 25 ranking in ERA. His proven track record is only one of the reasons that Nick Davey is happy to have him on board. "Kevin is a hardworking, knowledgeable coach who I feel is going to do a great job continuing to develop our pitcher's skills and routines so we can keep sending our pitchers back to their schools more prepared." Kevin's pro and college experience is going to be very valuable to the Dutchmen organization as we attempt to return to the playoffs and win our first PGCBL Championship.
|
Back to index...