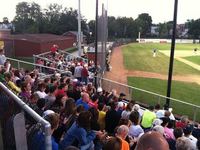 Albany, N.Y. — The Albany Dutchmen open their sixth season, and fourth in the Perfect Game Collegiate Baseball League, tonight against the Mohawk Valley DiamondDawgs at Bob Bellizzi Field in Albany. The Dutchmen are coming off their best season in franchise history, recording 26 wins and advancing to the PGCBL East Division Finals for the first time. In 2013, the Dutchmen qualified for the playoffs on the final day of the regular season, toppling Glens Falls in a 16-inning affair. Albany also claimed their first ever playoff victory by defeating the DiamondDawgs in an 11-inning game. The team was ranked as high as #9 in the nation by Perfect Game after a blazing start, which saw the Dutchmen sit atop the PGCBL with a 9-1 record.

Reigning PGCBL Coach of the Year Nick Davey returns to lead Albany for his fifth season at the helm. Also returning from the 2013 team are third baseman Nick Morton (Trinity) and pitcher Jose Hernandez (Dean College), who is slated to start for the Dutchmen on Friday. Assistant Coach Sean Buchanan will also return as hitting coach from last year's team. Kevin Salmon and Josh Johnson round out the Albany coaching staff, both in their first year with the team

Jake Welch (Notre Dame College) will get the ball on Opening Night for the Dutchmen. Welch tossed seven complete games in his 12 starts at Notre Dame College this season, striking out 80 hitters over 77.1 innings and compiling a 7-3 record.

The Dutchmen also will feature 2011 Major League Baseball Draft selection Reid Matthews (Coastal Carolina). Matthews was selected in the 35th round of the 2011 Draft by the Pittsburgh Pirates. Matthews is the seventh MLB draftee to suit up for the Dutchmen.

As usual, the Dutchmen will showcase some of the best local talent throughout the summer. Chris Amorosi (Siena) will pitch for Albany after a successful freshman season with the Saints, which saw them win the MAAC and advance to the NCAA Tournament. In total, eight players on the Dutchmen's Opening Night roster hail from the state of New York.

Opening Night is the beginning of a two-game homestand for the Dutchmen. After an off day on Thursday, the Dutchmen will welcome the Newark Pilots to Bob Bellizzi Field on Friday. Over the weekend, Albany hits the road for two games — Amsterdam on Saturday and Watertown on Sunday.