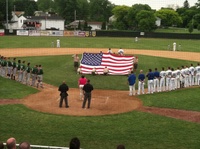 ALBANY- The Albany Dutchmen (1-0) used key extra-base hits and a solid night of pitching to topple the Mohawk Valley Diamond Dawgs (0-1), 7-3, at Bob Bellizzi Field in Albany on Wednesday night.
The opening-night victory was marked by balanced hitting across the Dutchmen lineup, as each of the first six hitters in the Albany lineup scored a run. The Dutchmen took a lead they would not relinquish in the bottom of the first inning when Danny Hrbek (Radford) tripled over the head of the left fielder to bring home Will Miller (College of the Albemarle). Hrbek was then brought home on an RBI double by Nick Jewett (Trinity University). Each of the first five Albany hitters reached base to begin the game.
The offensive onslaught continued in the third inning, when Miller slapped a one-out double, and proceeded to steal third base. Hrbek drove in his second run of the game on a groundout to first, which allowed the speedy Miller to cross the plate.
The Diamond Dawgs scored their opening run in the top of the third inning, when Zane Smith (Bryant) singled to bring home Justin Thomas (Rider).
The Dutchmen finished their scoring with a four-run fifth inning, which provided the game's winning margin. The rally began with one out, when Josh Lee (Lipscomb) walked, and Jewett singled. James Locklear (Rider) made the Albany lead 4-1 with another extra-base hit, a double. The game's biggest hit came off the bat of Sean Aspinall (Azusa Pacific), who cleared the bases with a double — although Aspinall was gunned out trying to make it a triple.
Mohawk Valley added two more runs in the later innings — a run in the sixth inning on an RBI single by Colin Hawk (Cincinnati) and an RBI single in the eighth inning from Trey Stover (Hartford)
Albany starting pitcher Jake Welch (Notre Dame College) earned the victory for the Dutchmen, allowing two earned runs on seven hits over 5.1 innings. Welch struck out two hitters and walked three.
After Welch's exit, head coach Nick Davey used a tandem of four pitchers — AJ Flores (Texas A&M Corpus Christi), Austin Foote (Indiana), Kevin Landgrebe (Texas A&M Corpus Christi), and Kyle Zurak (Radford). The foursome allowed just one hit over 3.1 innings, and fanned three Mohawk Valley hitters.
The loss was charged to Bryan Greig (Mercy), who allowed six runs over his 4.1 innings of work. Tyler Brien (Cortland State) hurled the final 3.2 innings, allowing just one run on one hit and striking out three.
The Dutchmen return home on Friday after an off-day, battling the Newark Pilots at 7:05 on Friday night. The first 500 fans in attendance will receive a Dutchmen rally towel. It will also be Yankee Trails Baseball Bingo Night; one lucky fan will win a trip for two to a New York Mets game at Citi Field.