By: Dutchmen Front Office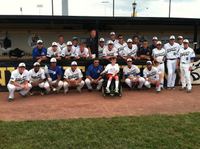 The Albany Dutchmen and National Association of Letter Carriers will be hosting the 5th Annual MVP for MDA Softball Tournament on Sunday, June 29th. The tournament will be played to raise funds for Muscular Dystrophy Association and Derek Murphy, a 13 year old boy afflicted with Duchenne muscular dystrophy.
The tournament will be played on Sunday, June 29th from 1:00PM - 5:00PM at the Plumeri Sports Complex. Each team will be guaranteed 3 games and the top two teams with the best records will advance to the Championship game. Registration is only $25 per player and includes the softball games with certified umpires, team t-shirt, dinner, a ticket to that night's Dutchmen game at 5:05PM, and a $10 donation to Muscular Dystrophy Association. There will also be a huge raffle that will include a multitude of prizes, highlighted by a 42" HDTV and New York Yankees tickets. All raffle proceeds will be donated to MDA. Beer and other concessions will be available for purchase throughout the softball tournament and proceeds from each sale will also be donated to MDA.
Those interested in participating in this great event can register as an inidividual or as a team. For more information or to register, click here.
|
Back to index...