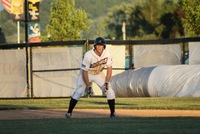 The Albany dropped both ends of a doubleheader, losing 10-2 and 4-1 to the Watertown Rams Tuesday at Bellizzi Field in Albany.
The Dutchmen were scoreless through five innings in the opening game of the doubleheader, constantly working out of jams. Watertown had left seven runners on base in the first four innings, as Austin Foote (Indiana) and Tyler Fries (Wilmington) battled to keep the game scoreless.
In the sixth inning, Watertown broke through with five runs, and added another five in the seventh inning. The biggest hit of the sixth came on a two-out single from Chris Gaetano (Monmouth), which extended the lead to 5-0. The seventh inning was marked by another two-out, two-run single, this one from Nick Moore (Missouri).
The Dutchmen were able to dent the scoring column in the bottom of the seventh, adding two runs on a sacrifice fly from Nick Jewett and a RBI single from James Locklear (Rider).
The winning pitcher was Sean Rackoski (Kansas), and the losing pitcher was Fries.
The second game was more of a pitcher's game, but the scoring opened in the first inning. The Dutchmen claimed a 1-0 lead in the bottom of the first on a single from Cameron Miller (Baylor) to score Will Miller (College of the Albemarle).
The lead was short-lived, as the Rams took the lead for good in the bottom of the second. The tying run scored on a throwing error, and Santino Alteri drove in the second run on a single, bringing Tyler Decker (Adelphi) to the plate.
Watertown extended their advantage to 3-1 in the fifth inning, beginning with a single from Ben Wylly (San Diego). After a wild pitch and a sacrifice buny, Wylly scored on a groundout from San Diego teammate James Bonds.
The fourth and final run came home on a bases loaded walk by Decker with two outs in the fifth inning.
Chris Amorosi was charged with the loss for the Dutchmen, while Mitch Sewald (LSU) picked up his first win of the season in a seven-inning complete game outing.
The Dutchmen look to get back on the winning track on Wednesday against the Amsterdam Mohawks, with game time set for 7:05. It is a ten dollar All You Can Eat night at Bellizzi Field, as well as Throwback Thursday.