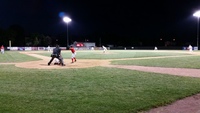 The Albany Dutchmen never recovered from a three-run first inning from the Amsterdam Mohawks, and dropped an 11-6 decision to Amsterdam on Thursday at Bob Bellizzi Field.
The scoring began early for the Mohawks, as leadoff hitter Marcus Carson (Kentucky) walked to lead off the game. He then proceeded to steal second, take third on an error and race home as the ball was being thrown back into the infield.
The lead was extended to 3-0 on a two-out, two-run single from Jonathan Pryor (Wake Forest), who was caught trying to extend his single into a double.
Amsterdam's early surge continued in the second with two more runs, scored by JaVon Shelby (Kentucky) and Pryor.
Amsterdam scored another pair of runs in the top of the third inning. A leadoff double from Shelby led to a run on a Pryor double, and Pryor scored on a single from Joey Aiola (Marist).
Trailing 7-0, the Dutchmen battled back with four runs, making it a three-run game. The four runs were all driven in with two outs in the inning. The scoring for Albany began with a two-run single from Nick Jewett (Trinity University). Danny Hrbek (Radford) would cross the plate on a wild pitch for the third run. The next hitter, Sean Aspinall (Azusa Pacific) tripled to score the fourth run, cutting the lead to 7-4 through three innings.
The Mohawks answered the Dutchmen rally with a three-run fourth inning. Carson, Josh Gardiner (Radford) and Shelby scored the runs to re-extend the lead for Amsterdam to 10-4.
Amsterdam's scoring concluded with a run in the top of the eighth inning, driven in on a sacrifice fly from John Razzino (Franklin Pierce).
The Dutchmen tried to make things interesting in the bottom of the eighth, scoring two runs and loading the bases. The runs were plated on an RBI single from Ryan Toomey (Georgetown), and a wild pitch that brought Nick Morton (Trinity University) home. The Dutchmen had the bases loaded down 11-6, but Amsterdam reliever Zach Breen (Barton) recorded the final four outs to earn the save.
The win was earned by John McCarren (Wake Forest), who tossed four innings in relief. Kevin Landgrebe (Texas A&M Corpus Christi) was charged with the loss, his first defeat of the season.
The Dutchmen will hit the road for two games, beginning with a matchup tomorrow in Newark against the Pilots, and concluding with a Saturday game with Glens Falls.The Dutchmen return home on Sunday for a 5:05 first pitch with the Mohawk Valley Diamond Dawgs. It is Team Poster Giveaway Night for the first 250 fans in attendance courtesy of Modern Press, and the Dutchmen players will be available for autographs after the game. It is also Family Funday, where 14 dollars will get fans four tickets and four hot dogs.