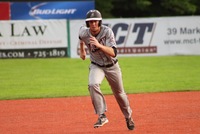 The Albany Dutchmen fell to 8-6 on the season, surrendering a 6-0 loss to the Glens Falls Golden Eagles at East Field on Saturday night. The loss was the fifth in a row for Albany, and dropped the Dutchmen into third place into the PGCBL East Division.
After back-and-back games of surrendering runs in the first inning, the Dutchmen and Golden Eagles were scoreless into the fourth inning. Glens Falls did most of their work in the fourth, plating five runs on three hits. The opening run scored when Colton Montgomery (Georgia College) was hit by a bases-loaded pitch, scoring Brennan Price (Felician). A single from John Lynn (Wagner) made the score 2-0, and a single from Danny Oliveri (Triton) put the Golden Eagles ahead 3-0. The final two runs of the inning scored when Mark Powell (Bucknell) doubled to left field, with the second of those runs coming in on an error.
The inning was ended by Austin Goeke (Wagner), who worked 3.1 shutout innings for the Dutchmen, including a three-strikeout sixth inning. Goeke retired the first nine hitters he faced.
The Dutchmen would threaten in the seventh inning, loading the bases on a Cameron Miller (Baylor) walk, a Nick Jewett (Trinity University) single, and a James Locklear (Rider) walk. However, Glens Falls starter Jack Fowler (Felician) would retire the next three hitters to keep Albany off the scoreboard.
The offensive leader for the Dutchmen was Adam Lee (Lipscomb), who went 2-for-2 with two doubles, reaching base in each of his three plate appearances.
Glens Falls concluded the scoring in the bottom of the eighth inning, scoring a run on an RBI groundout from Lynn
Fowler earned the win over seven strong innings on the mound, and Albany's Steven Ghiardi was charged with the loss.
The Dutchmen return home on Sunday for a 5:05 first pitch with the Mohawk Valley Diamond Dawgs. It is Team Poster Giveaway Night, sponsored by Modern Press, for the first 250 fans in attendance. Dutchmen players will be available for autographs after the game. It is also Sunday Funday, where 14 dollars will get 14 dollars will get fans four tickets (two adult tickets and two youth tickets) and four food vouchers.