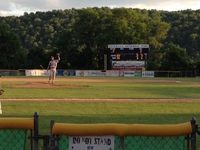 The Albany Dutchmen rallied to cut an 11-0 lead to just three runs, but could not come all the way back in an 11-8 loss to the Mohawk Valley DiamondDawgs on Thursday at Veteran's Memorial Park in Little Falls.
The Dutchmen found themselves in a 3-0 hole after the first inning, as Zach Collett (New Haven) launched a three-run home run to center field. The home run was his fourth of the season.
The lead ballooned to 11-0 in the bottom of the second inning. Runs were scored on a bases loaded walk to Collett, a two-run single by Zane Smith (Bryant), a two-run single from Greg Fazio (Rider), an RBI single from Colin Hawk (Cincinnati), and a two-run single from Trey Stover (Hartford). Mohawk Valley scored eight runs on six hits in the inning.
However, that would conclude the Mohawk Valley scoring for the game. For the final seven innings, Dylan McGee (Trinity University), Nick DiLeo (Wagner), and AJ Flores (Texas A&M Corpus Christi) held Mohawk Valley without a run, and didn't allow a runner past second base.
Albany's attempt at a huge rally began in the fourth inning, when Danny Hrbek (Radford) began the inning with the team's second home run of the season, a shot into the left-centerfield bleachers. A second run was added when Ryan Toomey (Georgetown) hit a high-chopper to third that scored Sean Aspinall (Azusa Pacific).
The lead was trimmed to 11-5 with three more runs in the top of the fifth inning. A two-run double from James Locklear (Rider) brought Hrbek and Aspinall home, which was followed by a sacrifice fly from Toomey that scored Cameron Miller (Baylor).
Miller would provide the Dutchmen with another home run in the seventh, a solo shot to lead off the inning. Miller's homer cut the lead to 11-6.
Albany threatened in the top of the ninth, scoring runs on a Justin Brock (Franklin Pierce) double and a Will Miller (College of the Albemarle) single. The Dutchmen were unable to get the final three runs, and fell.
The win went to Mohawk Valley starter Evan Davis (Marist), and the loss was charged to Austin Goeke (Wagner).
Albany returns home for a game with the Glens Falls Golden Eagles at 7:05 PM on Friday. It is MLB Ticket Giveaway Night, in which tickets to Yankees and Mets games, as well as authentic Derek Jeter and Dustin Pedroia jerseys, will be available for all fans to win.