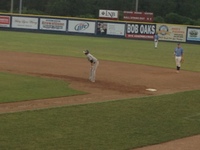 The Albany Dutchmen were unable to earn their third consecutive victory, and fell by a score of 6-1 to the Newark Pilots on Tuesday night at Colburn Park in Newark.
The game was scoreless through two innings, with the Pilots putting the first runs of the game on the scoreboard. With two outs in the inning, Jack Gerstenmaier (Virginia) fired a single to score Derek Reed (St. Rose) and begin the scoring. Braxton Wilks (Kansas State) and Tanner Giesel (Southeastern CC) followed with back-to-back run scoring singles to give Newark a 3-0 lead.
The Dutchmen scored their lone run in the fifth inning, which began with a single from Ryan Toomey (Georgetown). Jake Hanson (Valparaiso) followed with another single, and Danny Hrbek (Radford) laid down a sacrifice bunt to advance the runners to second and third. Will Miller (College of the Albemarle) then clubbed a high chopper to third base and the throw home was not in time to retire Toomey, giving Miller a run batted in.
Toomey had the best game for Albany, going 2-for-4 with the lone run scored. Adam Lee (Lipscomb), Sean Aspinall (Azusa Pacific), Danny Hrbek (Radford), and Hanson added one hit each for the Dutchmen.
However, Newark would extend their lead to 5-1 in the bottom half of the fifth. A triple to deep center field from Giesel brought Gerstenmaier home, and Giesel would score on an RBI single from Wyatt Padgett (BYU).
The scoring concluded in the bottom of the eighth inning, when a leadoff double from Giesel turned into a run via a sacrifice fly from Dorian Hairston (Kentucky).
Jayson Yono (Stevens) tossed a complete game for the Pilots, earning the victory. Drew Tolson (Baylor) was charged with his first loss, but did extend his streak to 28 consecutive innings without allowing a walk.
The Dutchmen will get an off day on Wednesday before returning home to face the Glens Falls Golden Eagles on Thursday at 7:05. The Dutchmen will host the Here's to America Helmbold's Hot Dog Eating Contest, where the first participant to eat five Helmbold's hot dogs (and buns) will win a trip for two to Foxwoods Resort and Casino, four Dutchmen season tickets, and a gift certificate to Helmbold's. The team will also offer an all-you-can-eat deal for just ten dollars.