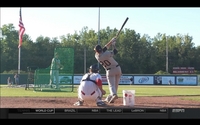 July 3rd, 2014
2013 Albany Dutchmen first baseman Matt Dacey (Richmond) put together an impressive showing at the 2014 College Home Run Derby, placing third out of eight contestants with 14 home runs. The event was televised live on ESPN, and took place in Omaha, Nebraska, at the home of the College World Series.
Before Dacey stepped to the plate, a feature on his victory in the 2013 Perfect Game Collegiate Baseball League Home Run Derby aired, and two pictures of him in an Albany uniform were shown along with the story. His previous home run derby exploits were mentioned throughout the broadcast.
Dacey hit five home runs in the opening round, tying for third. He had hit just three home runs over the first ten outs, but was able to hit the money ball over the wall, which counted for two home runs to vault him into a tie for third place.
The first baseman put on a show in the second round, hitting nine home runs in the last position. His eighth home run traveled 480 feet, the longest home run hit on the night. He fell just two home runs short of advancing to the final round.
The event was won by Tres Barrera of Texas, who hit 25 home runs in the final round to claim victory. TD Ameritrade Park was notorious during the College World Series for keeping almost all hits in the park, making the efforts of Dacey and others all the more impressive.
Dacey was the 2013 PGCBL Home Run Derby champion, and hit six home runs in 2013 for the Albany Dutchmen. He also hit 12 home runs in his collegiate season with Richmond.