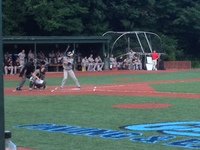 The Albany Dutchmen dropped their third consecutive game, a 3-2 loss in seven innings to the Amsterdam Mohawks at Shuttleworth Park in Amsterdam. The game was called in the bottom of the seventh due to the severe weather in the area.
The losing pitcher for the Dutchmen was Austin Foote (Indiana), and the winning pitcher for the Mohawks was Joe Randall (Fairfield).
Amsterdam took the lead in the bottom of the third inning, which began when Jake Salpietro (Fairfield) reached on an error. With the bases loaded after a walk and a single, Salpietro scored on an RBI groundout by Jonathan Pryor (Wake Forest). Justin Curry (Heartland CC) got out of the inning with no further damage by inducing a shallow flyout and a strikeout.
The Dutchmen answered with a run in the top of the fourth inning. The frame began when Adam Lee (Lipscomb) was hit by a pitch. With one out in the inning, Cameron Miller (Baylor) lined a single to center to tie the game. Miller was thrown out at the plate on a delayed steal to end the inning.
The Mohawks retook the lead in the bottom of the fifth inning. Brendan Tracy (Fairfield) led off the inning with a walk, and moved to second on a sacrifice bunt. Amsterdam took the 2-1 lead when a John Razzino (Franklin Pierce) ground ball to shortstop was thrown over the head of Miller.
Curry worked a solid six-inning outing for the Dutchmen, as he did not allow an earned run. He struck out four Amsterdam hitters in a no decision.
Albany once again tied the game in the seventh. Ryan Toomey (Georgetown) doubled to the right center field gap with one out. He remained on second for the second out, and pinch hitter Nick Jewett (Trinity University) tied the game with a single.
However, the Mohawks had an answer in the bottom of the seventh, which proved to be the final inning. A double from pinch hitter Tom Kain (Lynn) started the inning, but he was tagged out at the plate when a dropped third strike skipped away, but was recovered in time by, Demetrius Webb (Indiana). Pryor was then hit by a pitch, and Razzino singled to center, scoring pinch runner Marcus Carson (Kentucky). At that point, the pitcher's mound at Shuttleworth Park was raked due to the rain, and a flash of lightning forced the teams off the field. The weather eventually caused the game to be cut short.
The Dutchmen return home on Wednesday for a game with the Newark Pilots. It is SEFCU Hometown Heroes Night, where military, police, EMT, and fire officials will be honored and receive free admission for themselves and their families courtesy of SEFCU.