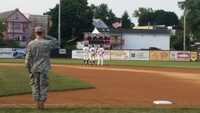 The Albany Dutchmen lost a heartbreaker to the Utica Brewers, dropping a 4-3 decision at Bellizzi Field in ten innings on Monday.
The first four innings went without a run, as the Dutchmen worked a pair of double plays; one in the first inning and one in the fourth inning. Both double plays were started by starting pitcher Nick DiLeo (Wagner). DiLeo tossed six scoreless innings for the Dutchmen, and was not involved in the decision.
Albany took the lead in the bottom of the fifth inning, as back-to-back singles from Demetrius Webb (Indiana) and Dave Vaccaro (Radford) began the frame. An fielder's choice kept runners at first and second, and an error moved the runners to second and third. Will Miller (College of the Albemarle) drove in the first run with a groundout to short, and a single from Justin Brock (Franklin Pierce) extended the lead to 2-0.
Utica trimmed the deficit to 2-1 in the seventh inning. Cedric Mullins (Louisburg) reached on an error to start the inning, and scored on an RBI groundout from Cody Burton (Alabama-Huntsville).
The Brewers took the lead in the eighth inning, scoring two runs with two outs in the inning. A walk to Reno Rankin (Los Angeles Mission) began the offense, and a double from Anthony Villa (St. Mary's) tied the game. Zach Hardy (Texas A&M Corpus Christi) then doubled to give Utica a 3–2 lead, which was held into the bottom of the ninth.
With one out in the bottom of the ninth, Adam Lee (Lipscomb) doubled. After a strikeout, Ernie Clement (Virginia) was hit by a pitch to put runners on first and second. Pinch hitter Nick Jewett (Trinity University) clubbed a single to left-center field, scoring Lee to tie the game. The Dutchmen were unable to score, and the game extended to the tenth.
Zach Torriente (New Mexico State) doubled to begin the tenth, and a one-out single put runners on first and third. Austin Foote (Indiana) induced a ground ball to second, getting the second out on a fielder's choice. The throw to first base was close, and ruled safe, sparking outrage from the Dutchmen and the ejection of head coach Nick Davey.
The Dutchmen were unable to score in the tenth.
Josh Garran (Pace) earned the win, and Chad Moss (Davidson) was awarded the save. Foote was charged with the loss.
The Dutchmen face the Mohawk Valley Diamond Dawgs on Tuesday in Little Falls, and return home Thursday after an off day. Thursday will feature a pre-game concert from Chelsea Cavanaugh to benefit Maddie's Mark.