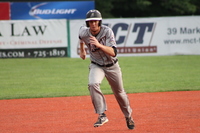 The Albany Dutchmen rallied from an early 5-0 deficit to tie the game, but surrendered seven runs in the seventh and eighth innings to drop a 12-5 decision to the Mohawk Valley DiamondDawgs on Tuesday at Veteran's Memorial Park in Little Falls.
The Dutchmen fell behind in the first inning, surrendering three runs after loading the bases with nobody out. Zach Collett (New Haven) drove in the first run of the game with a single. Eric Strano (Rider) then scored on an error, and Collett was plated on a passed ball to make the score 3-0.
The lead was extended to 5-0 in the second inning. Andy Lalonde (Southern New Hampshire) and Joey Carcone (St. Rose) scored on a two-run single from Colin Hawk (Cincinnati).
Jose Hernandez (Dean College) did not allow a run in the next four innings, and struck out eight hitters. The eight punchouts are the most for a Dutchmen pitcher since the 2012 season.
Albany's initial rally started in the top of the third inning. Danny Hrbek (Radford) led off by crushing a ball to left center field, well over the wall for his second home run of the season. The Dutchmen added another run in the inning, when Sean Aspinall (Azusa Pacific) drove home Ernie Clement (Virginia), who had reached on a fielder's choice and had stolen second base.
The Dutchmen tied the game in the fifth inning with three runs. Clement singled, and came around to score on a wild pitch to trim the lead to two runs. A ground ball off the bat of Cameron Miller (Baylor) was mishandled by the Diamond Dawgs, and allowed Nick Jewett (Trinity University) to score. Justin Brock (Franklin Pierce), who stole two bases on the game, drove in the third run of the inning with a single.
Mohawk Valley stormed back ahead in the seventh inning with four runs. An RBI double from Jayson Sullivan (Sacred Heart), a two-run single from Michael Triller (Clemson), and an RBI single from Gus Craig (Columbia) provided the scoring for the Diamond Dawgs.
The Diamond Dawgs added three runs in the eighth, scoring on a Strano walk, a Hawk walk, and a Triller single.
The winning pitcher for Mohawk Valley was Evan Kissinger (LSU Eunice), and Dylan McGee (Trinity University) took the loss for Albany, his first.
The Dutchmen get Wednesday off before a crucial home game with the Glens Falls Golden Eagles on Thursday in Albany. The Dutchmen will host a fundraiser for Maddie's Mark, headlined by a performance from country singer-songwriter Chelsea Cavanaugh, which will begin at 6:00. It is also All You Can Eat for Ten Dollars night at Bellizzi Field.