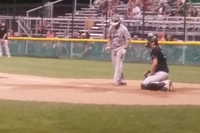 The Albany Dutchmen exploded for a season-high 16 runs, and trimmed their magic number for the final PGCBL playoff spot to two with a 16-4 victory over the Mohawk Valley Diamond Dawgs Sunday at Veteran's Memorial Park in Little Falls.
On a day where the Dutchmen offense was the story, it was Mohawk Valley that scored the opening run of the game in the bottom of the first inning. With two outs, Zach Collett (New Haven) drew a walk, and moved to second base when Gus Craig (Columbia) was hit by a pitch. The run scored on an RBI single from Jayson Sullivan (Sacred Heart).
The Dutchmen offensive explosion began in the top of the third inning. Demetrius Webb (Indiana) and Will Miller (College of the Albemarle) started the inning with back-to-back singles, and moved to second and third on an Ernie Clement sacrifice bunt. Webb scored on a passed ball, and Miller came home on an RBI groundout from Adam Lee (Lipscomb). With the bases empty and two outs, Sean Aspinall (Azusa Pacific) reached on an error, and scored on a James Locklear (Rider) single to give Albany a 3-1 lead.
The run scoring continued in the fourth inning, which began on a double from Danny Hrbek (Radford) and a single from Webb. With one out, Clement fired a single through the infield, scoring both runners and giving Albany a 5-1 lead. After Lee walked and Aspinall was hit by a pitch to load the bases, Nick Jewett (Trinity University) clubbed a two-run double. Jewett would score on a Locklear groundout to make the Dutchmen lead 8-1.
Mohawk Valley battled back with a run in the fourth and sixth innings, both of which plated on an RBI single from Will Trahan (LSU Eunice).
With the lead trimmed to 8-3, the Dutchmen answered with four runs in the top of the seventh inning. Justin Brock (Franklin Pierce) and Hrbek singled, and a Webb walk loaded the bases. Miller then drove in his first two runs of the day with a single. Webb scored on the next hitter, after a single from Clement. The final run of the inning scored on a Lee fielder's choice to score Miller, giving Albany a 12-3 lead.
The scoring ended for Albany in the top of the ninth inning, when Aspinall singled to score a run and Jewett clubbed a three-run home run, his first of the season.
Mohawk Valley's scoring ended with a bases loaded walk to Mike Triller (Clemson).
The Dutchmen and Diamond Dawgs renew their divisional rivalry Monday in Albany. The Dutchmen will honor this season's Spotlight Players of the Week, as well as running the Monday Kids Eat Free (with Paid Admission) promotion. Game time is scheduled for 7:05 p.m.