By: Dutchmen Front Office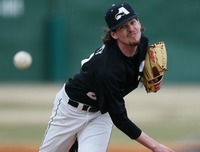 Bullpen depth has always been an important part of the Dutchmen organization's thought process when building a roster. As a former pitcher, Coach Davey loves to have multiple options to call on in crunch time, and past seasons have seen great success from players like Kyle Zurak (Radford) and Thomas Belcher (Indiana). Now, the Dutchmen head into the 2015 summer with a slew of talented, experienced arms to go to in the late innings: junior Jesse Cooper (Seton Hill), junior Mitchell Cooksey (Anderson), and sophomore Liam Conboy (Susquehanna).

A two–way player at #6 ranked DII power Seton Hill, Jesse Cooper made a real impact in his sophomore season with the Griffins. After playing his freshman year strictly as a utility infielder, Cooper took over the closer role last year and flourished. The Johnstown, PA native used his ¾ arm slot and plus movement to notch 17 saves across 23 appearances. He yielded only 24 hits and compiled a 1.50 ERA as one of the most dominant closers in division two. However, the 6'2" right-hander also made an impact with the bat, hitting .326 with seven steals and a .985 fielding percentage playing mainly at second. With his proven track record and versatile skill set, Cooper is primed to help the Dutchmen in a variety of ways come June.

He will be joined at the back of the staff by Anderson University junior Mitchell Cooksey. The Bowie, MD native has been a constant in the Trojans bullpen since his freshman season, when he appeared in 10 games and notched a 1.12 ERA while holding opposing hitters to a .267 batting average. His role expanded during his sophomore season, making 17 appearances, tying for the team-lead in saves, and holding opponents to a .287 average across 34 innings. With a wealth of experience, the right-hander has remained consistent at the beginning of his junior season, striking out seven batters across 7.2 innings and holding a 3.52 ERA in the early part of the season. With his unshakeable confidence in tough situations, Cooksey figures to be one of Coach Davey's go to options at the end of games this summer.

Rounding out the trio of experienced closers is Susquehanna sophomore Liam Conboy. The 6'3" right-hander from Old Tappan, NJ experienced a real growth spurt during his freshman season, both physically and on the mound. As he gained confidence and comfort, Conboy emerged as the top bullpen option for his team and earned an all-star selection in his summer league. Possessing three plus pitches, Conboy compiled a 1.17 ERA last season across 15.1 innings, allowing only eight hits. As he continues to gain more experience during his sophomore season, Conboy looks to be another dangerous option for the Dutchmen to turn to in the late innings.
|
Back to index...