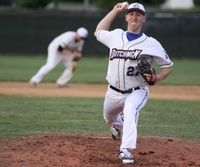 The Albany Dutchmen rode a strong pitching performance from Nick Cioffi (Towson) and some timely hitting to a 3-1 victory over the Elmira Pioneers on Opening Night at Bob Bellizzi Field in Albany.
Cioffi tossed seven scoreless innings, allowing just three hits and one walk. The righty struck out eight Pioneer hitters in the win.
The Dutchmen got on the board in the bottom of the first inning, beginning when returning PGCBL All-Star Sean Aspinall was hit by a pitch. Aspinall moved to third on a double from Chase Crawford (Bridgeport), and scored when cleanup hitter Slayton Vaughan (Oral Roberts) hit a hard grounder to the shortstop. Crawford would reach base three times for the Dutchmen, including twice on errors.
The 1-0 score would remain until the sixth inning, as pitching dominated the day. The two pitching staffs combined to record 27 strikeouts — 17 for Elmira pitchers and 10 for Dutchmen hurlers. Elmira starter Kyano Cummings (Siena) would only allow the one run over five innings with ten strikeouts, but picked up the loss.
The Dutchmen also benefited from four Elmira errors, but could not break the game open. Albany left ten runners on base. Eric Mueller (UAlbany) was the lone Dutchmen to record a multi-hit game.
Albany extended the lead in the bottom of the sixth, which started with a one-out walk by Connor Van Caugherty (Cincinnati). A pinch-hit single from Dominic DiCaprio (Rice) led to an Aspinall single, which scored Van Caugherty. DiCaprio would then score when a wild patch skipped past Elmira catcher Josh Lovelady (Mississippi State) to give Albany a 3-0 lead.
Zak Spivy (Polk State) relieved Cioffi after seven innings, and fired a 1-2-3 eighth inning. Liam Conboy (Susquehanna) recorded the save in the ninth inning, although Elmira was able to get a run back on an RBI single by Christian Santisteban (Manhattan) that scored Will LaRue (Xavier). Conboy worked out of a jam, inducing a game-ending groundout to Mike Fitzsimmons (Ole Miss) with the tying run on first base.
The 1-0 Dutchmen are back at Bellizzi Field on Wednesday for a battle with the Glens Falls Dragons. The 7:05 game is the first in the Subway Summer Series, the rivalry slate between Albany and Glens Falls. Wednesday is also Guaranteed Win Night, where fans will receive a ticket to Friday's home game if the Dragons win. Elmira has Wednesday off before facing the Mohawk Valley Diamond Dawgs on Thursday in Little Falls.