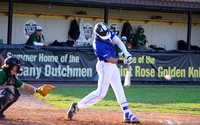 ALBANY, NY—The Albany Dutchmen (8-6) scored four unanswered runs in the 6th and 8th innings to race past the Mohawk Valley Diamond Dawgs (7-7) 7-2 in the second game of a home and home series.
After not hitting a single triple through the first 13 games, Albany stroked a trio of 3-basehits, slapping the ball with authority all over the diamond. The Dutchmen finished with 10 hits overall, and seven runs to lead Friday's effort.
For the second night in a row, Albany began the scoring during their first at bat. Batting second for Nick Davey's team, Adam Gauthier (Dartmouth) roped a triple to left centerfield, and scored on an RBI single by Zach Remillard (Coastal Carolina).
Remillard's single was only the beginning for the Dutchmen DH. By night's end, Remillard amassed four hits and three RBIs. In his final at-bat, Remillard ripped a triple to right center, scoring Eric Mueller (UAlbany) from first and pushing the Dutchmen lead to five.
Both teams wore their primary colors, with Albany showcasing new, blue alternate jerseys for the game. Mohawk Valley countered with green tops.
The Diamond Dawgs struggled against Dutchmen starter, Mike Reitcheck (Penn). Making his second start for Albany, Reitcheck threw a quality start: seven innings and two earned runs relinquished on seven hits. He struck out five.
Thanks to two Dutchmen double plays converted by the Albany middle infield, Reitcheck cruised through the first four innings. With the Albany advantage 3-0, Mohawk Valley finally got to Reitcheck in the 5th and 6th innings. The second Diamond Dawgs run cross the plate off the bat of catcher JD Osborne (Polk State), smacking a single to the outfield that scored Thomas Walraven (New Haven) and shrunk the Dutchmen lead to one.
Mohawk Valley eventually loaded the bases against Reitcheck in the inning, but the Penn southpaw got Colin Hawk (Indianapolis) to dribble one back to the mound to end the threat.
The Dutchmen responded in their half of the 6th, loading the bases themselves and getting a sacrifice fly from Slayton Vaughan (Oral Roberts) and a two-run single from Sean Aspinall (Azusa Pacific).
Remillard's triple in the 8th pushed the lead to 7-2, and put the game out of reach for Mohawk Valley.
Albany hits the road for a pair of games at Amsterdam and Elmira before the league-wide day off on Monday. Mohawk Valley returns to Little Falls, NY for a pair against the Utica Brewers and Saugerties Stallions.
The Dutchmen return home to Bellizzi Field on Wednesday, June 24th for a double header with the Glens Falls Dragons, reigniting the Subway Summer Series, which is currently tied 1-1. It will be Bacon Night at the ballpark, and Web Wednesday promotions will occur throughout the day.