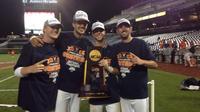 Ernie Clement, who starred for the Albany Dutchmen during the 2014 campaign, was named to the College World Series All-Tournament team after his Virginia Cavaliers won the national championship with a 4-2 victory over Vanderbilt.
Clement was one of five Cavaliers on the All-Tournament, and was selected due to his seven hits, two runs batted in and two runs scored in Omaha. Clement's best game came in Game Two of the championship series, where he went 3-for-4 to extend Virginia's season into the championship deciding game.
The Rochester native also served as a catalyst for the Cavalier run to the NCAA Championship, as the freshman drilled a walk-off single in the Super Regionals that sent the Cavaliers to Omaha in dramatic fashion.
Last season in Albany, Clement's .322 average in 19 games was second best on the team. Along with his impressive average, Clement hit five extra base hits and drove in 9 RBI. Clement's play in the final month of the season was a major factor in the Dutchmen qualifying for the PGCBL Playoffs for the second consecutive year.
The Albany Dutchmen are enormously proud of Clement's accomplishments with the Cavaliers, and congratulate him and his teammates on the first baseball national championship in school history. The current Dutchmen team also boasts an incoming Cavalier in Jack Weiller.