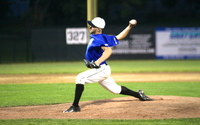 ALBANY, NY—An 11-hit performance by the Amsterdam Mohawks (22-6) was too much for the Albany Dutchmen (11-14) to overcome in a 4-2 defeat, snapping the Dutchmen 3-game winning streak.
After Dutchmen starter Gavin Wallace (Radford) got through the 1st inning on just 6 pitches, he faced his first jam in the 2nd. Living dangerously all night, Wallace finally relinquished the lead on an RBI single by Hunter Tackett (Auburn) in the 3rd.
Tackett finished the evening 2-4, with an RBI and two stolen bases. He is now a perfect 17-17 in opportunities on the base paths.
The Dutchmen struggled against Amsterdam's starter all night. Brad Schaenzer (Kentucky) kept the hometown team off balance by spotting his fastball and freezing hitters with his breaking ball. All in all, Schaenzer gave up only four base runners in 7 innings of work, stiking out eight in the effort.
With one out in the top of the 5th, Tackett reached on a single to left and stole second. He then scored on a single by Brendan Tracey (Fairfield), completing the two-man rally and putting Amsterdam on top 2-0.
After a wild pitch allowed Riley Mahan (Ketucky) to cross the plate in the 6th, Justin Yurchak (Wake Forest) brought home the 4th Amsterdam run with an RBI to right.
Trailing by four, the Dutchmen got two runners to second and third with two outs in the bottom of the 9th, when Sean Aspinall (Azusa Pacific), the reigning PGCBL Player of the Week, singled home the pair to right field.
With the deficit cut in half, and the tying run at the plate, Dominic DiCaprio was caught looking at a fastball on the outer half of the plate, ending the threat and concluding the game.
The Dutchmen and Mohawks will play again Tuesday at Shuttleworth Park in Amsterdam. Brandon Nylin (Herkimer CC) is expected to get the ball for Albany in an attempt to split the pair with the PGCBL East leading Mohawks.
Albany returns home to Bellizzi Field Thursday for a double header with the Saugerties Stallions (10-16). Thursday is the 5th annual Pink Game for American Cancer Society and Susan G. Komen for a Cure. The Dutchmen will wear pink jerseys in game 2, to be auctioned off in addition to a huge raffle. Included in the prizes are four field level tickets at Yankee Stadium for a matchup with the Boston Red Sox.
Thursday is also All-You-Can-Eat for $10 at Bellizzi Field.