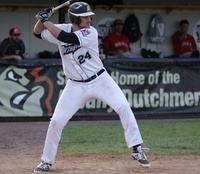 November 30, 2015
As 2015 comes to a close, DutchmenBaseball.com is taking a look back at the year that was, starting today with 2015's Game of the Year.
The 2015 season for the Albany Dutchmen was full of exciting contests and heart-stopping finishes. The Dutchmen won nine games by two runs or less, and won twice in walk-off fashion. However, the year's most exciting game came early in the season, when Albany rallied from a six-run deficit to top the rival Amsterdam Mohawks, 9-7, in Albany on June 7.
The Dutchmen found themselves in a 6-0 hole in the top of the second inning, with a six-run second for the Mohawks keyed by two-run singles from Drew Freedman (Wake Forest) and Riley Mahan (Kentucky).
Albany's rally began in the bottom of the sixth inning, after Brandon Nylin (St. Thomas Aquinas) and Andrew Giddens (Ave Maria) worked four consecutive scoreless innings on the mound. A two-run single from Eric Mueller (UAlbany) plated Chase Crawford (Bridgeport) and Sean Aspinall (Azusa Pacific), and a single from team Player of the Year Michael Fitzsimmons (Ole Miss) brought in Jack Weiller (Virginia) to cut the Amsterdam lead to 6-3.
After a run scored by the Mohawks increased the lead back to four runs, the comeback climaxed in the bottom of the seventh inning, which saw the Dutchmen score six times to claim the lead in front of a crowd of 662 fans at Bellizzi Field. The entire rally came with two outs after the first two hitters of the inning were retired.
Trailing 7-3, Crawford and Aspinall reached for the second inning in a row, and Weiller singled to bring in Crawford. After a passed ball scored Aspinall, and Mueller drew a walk, Fitzsimmons singled to cut the Amsterdam lead to 7-6. The game was then tied when Dominic DiCaprio (Rice) reached on an error that allowed Mueller to score.
The heroics came off the bat of Slayton Vaughan (Stephen F. Austin). Following a walk to Tyler Nelin (George Mason), Vaughan clubbed a single to center field, allowing Fitzsimmons and DiCaprio to score what would prove to be the winning runs. His game-winning hit was the catalyst in Vaughan's selection as Recognize Player of the Game.
Reliever Zak Spivy (Polk State College) slammed the door for the Dutchmen, allowing just one baserunner in the final two innings to earn the victory.
The victory over Amsterdam, though not as historic as the season-ending win over Glens Falls and without any walk-off heroics, gave the Dutchmen an important early-season triumph against a rival. As one of the biggest comebacks in team history, it propelled the Dutchmen to another playoff berth, and served as a memorable win over the then-defending PGCBL Champions.
Next week: DutchmenBaseball.com continues our Year in Review with a look at Albany's Pitching Performance of the Year.