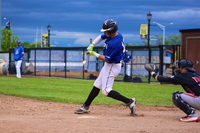 December 7, 2015
As 2015 comes to a close, DutchmenBaseball.com is taking a look back at the year that was, continuing today with 2015's Pitching Performance of the Year.
After a July 22 loss to the Glens Falls Dragons, the Dutchmen sat three games back of the final playoff spot in the PGCBL East with just seven games to make up the deficit. With a home game coming the next day, a Dragon victory would likely lock up the third playoff position for Glens Falls.
In the must-win situation, the Dutchmen sent ace Nick Cioffi (Saint Rose) to the mound, and the right-hander produced his best game of the season, a performance worthy of naming Albany's 2015 Pitching Performance of the Year.
Cioffi, a second-team All-PGCBL selection and the team Pitcher of the Year, dominated Glens Falls hitters, allowing only a ninth-inning run to go with a season-high nine strikeouts. He worked all nine innings for Albany, one of four complete games worked by the Averill Park native.
Cioffi, who was unsurprisingly named Recognize Player of the Game for the night, said he improved as the game went on after working out of some trouble in the early innings.
"The first few innings, I didn't have great stuff and just had to battle," Cioffi said after the game. "As the game went on, my stuff got a lot better, and I knew once I got through the fifth or sixth inning, I knew I could finish this one out."
The righty only faced four hitters without the lead, as a Grayson Lewis (Rice) double and a Jack Weiller (Virginia) single gave Albany a 1-0 lead in the bottom of the first inning.
A four-run sixth inning and another run in the seventh extended Cioffi's cushion, of which he did not need much.
"You don't change your approach on the mound, but it gives you a little more breathing room and the pitches are less stressful," Cioffi said of being able to pitch with a lead. "You still make your pitches, but you can afford to give up a hit."
Spurred by the major victory, the Dutchmen ran down the Dragons in the final week of the season, capped by a win on the final day of the season with none other than Cioffi on the mound. Over four starts against the Dragons, Cioffi allowed just three earned runs over 28 innings with 24 strikeouts.
Cioffi allowed just one earned run over his final 29 innings on the mound for Albany, winning each of his last four starts. That July stretch, which kept Albany afloat, was spotlighted by his season-saving effort on July 23, Albany's Pitching Performance of the Year.
Next week: DutchmenBaseball.com continues our Year in Review with a look at Albany's Offensive Performance of the Year.