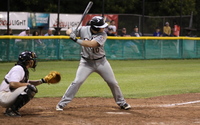 December 14, 2015
As 2015 comes to a close, DutchmenBaseball.com is taking a look back at the year that was, continuing today with 2015's Offensive Performance of the Year.
The Albany Dutchmen entered the final day of the regular season in a familiar situation; for the second time in three years, the Dutchmen would play the Glens Falls Dragons at East Field in a win or go home contest.
Facing Glens Falls' Pitcher of the Year Alex Yarem (Campbell), Albany was able to advance to a third consecutive postseason led by the man that had been the offensive centerpiece all season long — Ole Miss infielder Michael Fitzsimmons.
Fitzsimmons, who was the Team Player of the Year and a second team All-PGCBL selection, had his best game of the season in the biggest spot, driving in four runs on three hits, including a home run in Albany's 7-1 victory over the Dragons. Fitzsimmons' display in the final game entitles him to the honor of Dutchmen Offensive Performance of the Year.
The infielder flashed his power in his first at-bat, taking the second pitch of the second inning and driving it over the center field wall, giving Albany a 1-0 lead with his third home run of the season.
His efforts continued the next inning, with two outs and the Albany lead expanded to 3-0. The Rebel recorded one of his 49 hits with an RBI single that scored Grayson Lewis (Rice). He finished his production in the fifth inning, putting the Dragons away with a two run double that allowed Lewis and Jesse Cooper (Seton Hill) to score.
The four runs batted in tied for a season-high for the Dutchmen, part of a team record 36 RBIs. During the season, Fitzsimmons set Dutchmen records for RBIs, doubles, and extra-base hits.
Fitzsimmons said after the game he was able to drive pitches in the zone to help the Albany Dutchmen into the playoffs.
"They just gave me a couple pitches to hit, and I was able to get my best swing off," Fitzsimmons said. "I made good contact with it."
In a season full of memorable and influential performances for Fitzsimmons, none were bigger than the effort that came in front of over 2200 fans in Glens Falls on the final night of the PGCBL regular season. Coupled with a gem from Team Pitcher of the Year Nick Cioffi, Fitzsimmons played an pivotal role in another Albany trip to the playoffs.
Next week: DutchmenBaseball.com honors those that set Dutchmen records during the 2015 season.