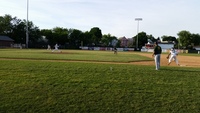 December 28, 2015
With 2015 just about in the rear view mirror, the Albany Dutchmen look forward to 2016, the biggest — literally — year in the history of the Perfect Game Collegiate Baseball League. With the addition of a new division rival in the Oneonta Outlaws, and two West Division foes in Jamestown and Geneva, the 2016 PGCBL season promises to be another riveting campaign in upstate New York.
In Albany, the Dutchmen will begin a quest for a fourth consecutive playoff berth, which will now require finishing in the top four of the PGCBL East. The Dutchmen will begin announcing the roster for the 2016 team in the coming weeks, a team returning head coach Nick Davey said is "the best team we've had to date as an organization, led by a very talented pitching staff."
The 2016 schedule will also be released soon, as fans in the Capital Region learn when longtime rivals Amsterdam and Glens Falls will come to town, as well as when the Dutchmen will make their first trips to new destinations.
In addition, DutchmenBaseball.com will continue profiling former Albany Dutchmen players as collegiate seasons begin. Players at the Division I level will be chasing 2014 alum Ernie Clement and 2015 alum Jack Weiller as the Virginia Cavaliers aim to repeat as National Champions.
As the year closes, everyone with the Albany Dutchmen organization would like to thank our fans for a great 2015, and hope everyone is ready for an even better 2016!