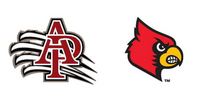 The Albany Dutchmen finalized their 2016 roster with the signing of two lefthanded pitchers from programs with prior connections to the Dutchmen. The Dutchmen are pleased to welcome Kale Morton (Azusa Pacific) and J.D. Mundt (Louisville) to the 2016 roster.
Morton comes to the Dutchmen after his sophomore season at Azusa Pacific, where he served as one of the team's most utilized relief pitchers. The lefty follows in the footsteps of former Dutchmen Sean Aspinall and Jon Reid, and will be joined in Albany by current teammate Mychael Goudreau. Morton made 19 appearances for the Cougars, with 17 coming out of the bullpen. The Glendora, California native recorded a 3.47 ERA with a 4-0 record at Azusa, working 23.1 innings on the mound. Opposing hitters batted .227 against Morton, who did not throw a wild pitch during his time on the mound. Morton transferred to Azusa Pacific from Arizona, where he made one appearance during his freshman campaign. During his prep career at Glendora High School, Morton was an all-area selection as a senior after a season that saw him go 11-0 with a 1.58 ERA.
J.D. Mundt will suit for the Dutchmen a year after fellow Cardinal Michael Bollmer wore the Albany uniform. Mundt is redshirting this season as a preferred walk-on for the No. 4 Cardinals, who are considered a favorite to advance to the College World Series in Omaha. The lefty is a Louisville native, and played his high school baseball at St. Xavier. During his prep career, Mundt helped guide his high school to a state championship as a junior. As a senior, he was a first team all-state selection in Kentucky, earning a 7-0 record with an ERA of 0.98. He was among the best players in the Louisville area, and was one of four players in the metro area to be named to the 2015 all-state team. Mundt was also a star swimmer in high school, and was named a second team all-stater in the pool.
The signing of the two lefties completes the roster for the Dutchmen, who will begin the Perfect Game Collegiate Baseball League season on June 1 at Shuttleworth Park in Amsterdam. The home debut of the 2016 Dutchmen is on June 2, when the Dutchmen begin the second edition of the Subway Summer Series against the Glens Falls Dragons.