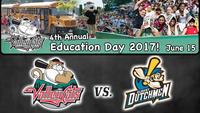 As part of their mission to "Create Fans for Life," the Tri-City ValleyCats will host the youth of the Capital Region for Education Day at Joseph L. Bruno Stadium on Thursday, June 15, 2017 at 10:00 a.m., as they play the Albany Dutchmen of the Perfect Game Collegiate Baseball League. The game will serve as the background to an all-encompassing educational field trip opportunity for local schools.
This marks the fourth straight year of Education Day, an event used to demonstrate how S.T.E.M. and other academic subjects integrate with the game of baseball, while also providing a platform to educate students on anti-bullying and character development.
"We are excited to host our 4th annual Education Day on the forefront of our 2017 All-Star Season," said Matt Callahan, ValleyCats General Manager. "This exhibition game provides unique learning opportunities for students from all across the Capital Region, all while in a fun-filled environment."
The program includes activities to educate students in areas such as science, mathematics, history and geography while demonstrating their real-world applications. This includes items on the geometry and dimensions of the field, player statistics and mileage charts for travel between the various cities throughout the New York-Penn League, historical ties to baseball in the Capital Region, and more.
"We're thrilled to continue this great partnership with the ValleyCats for Education Day at the Joe," said Jason Brinkman, Dutchmen Vice President & General Manager. "Our players are looking forward to the opportunity of playing in the game and interacting with all of the students in attendance from throughout the Capital District."
Each year, roughly 25 schools and 4,000 fans attend the ballgame, with several local organizations helping to support these field trips for local schools, including Regeneron Pharmaceuticals, Transfinder, SI Group, and Bob's Discount Furniture.
The schools also learn about character development by joining SouthPaw and friends in taking an anti-bullying peace pledge before the game. Students also have an opportunity to sign the 'Cats Peace Pledge, which will be displayed at the stadium throughout the summer.
A special curriculum has been created for local schools to download and use a precursor to the event. To learn more about how to get your school involved in Education Day, contact the ValleyCats front office at 518-629-CATS. Individual tickets are priced at $7.00 for all sections, and are available for purchase online attcvalleycats.com/educationday.