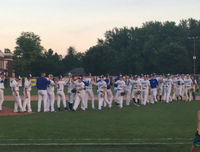 ALBANY N.Y. - Fueled by a thirteen run outburst, the Albany Dutchmen (15-10) defeated the Saugerties Stallions (13-13) by a final score of 13-5.
It took the Dutchmen a few innings to get rolling, as they led 1-0 going into the fourth inning. Albany used a two run single by Peyton Sockwell (North Alabama) and three run triple on a misplayed ball by rightfielder Patrick Lagravinese (Albany) to break the game open off of starting pitcher Avery Short (Siena). Short had been one out away from working out of a two runners in scoring position with nobody out jam prior to the misplayed ball by Lagravinese.
The Dutchmen were far from finished, adding six runs in the fifth inning on run scoring singles by Jon Skidmore (Dallas Baptist), Sockwell, and Brad Gneiting (Rice), along with a run scoring fielder's choice from Nick Estrella (Azusa Pacific) and a two run double by Justin Childers (Ohio Dominican).
Albany provided more than enough run support for Tommy Miller (Siena), who pitched six scoreless innings, scattering seven base hits, while walking two and striking out two. The workmanlike outing for Miller marked his third win of the season, as he improved his record to a perfect 3-0. The Dutchmen have won all five of Miller's starts.
Albany received production from up and down the lineup, as four players had multi-hit games, and nine different players scored at least one run.
Trace Tyre (Ole Miss), the leading hitter on the season for the Dutchmen, proved well rested from his day off in the previous game on July 4th, as he had two hits in the ballgame. Sockwell finished his day with two hits in three at bats along with 3 RBI. Estrella also had three RBI and now leads the Dutchmen with 18.
Saugerties struggled to get production out of their pitching staff and eventually turned to two position players to pitch the final two innings. Andrew Taft (Buffalo) and Matt Feinstein (Dartmouth) combined to allow one run and strike out two batters over those final two innings. That followed up a performance from the Stallion bullpen that encompassed two innings pitched and six runs allowed between Brady Peterson (Stetson) and Kelly Killeen (Franklin Pierce) prior to Taft and Feinstein entering the game.
The Dutchmen beat the Stallions by a combined score of 24-5 over the past two games. That turned a half game edge over Saugerties by Albany into a 2.5 game edge.
Next up for Albany is a road trip as they have a doubleheader at Oneonta on July 6th and a road matchup against Amsterdam on July 7th. The Dutchmen have July 8th off before returning home on Sunday, July 9th against Saugerties at 5:05 p.m. The ballgame will mark the Dutchmen's seventh annual Pink Game, as prizes will be raffled off to fans to benefit Susan G. Komen for the Cure and the American Cancer Society.