By: Dutchmen Front Office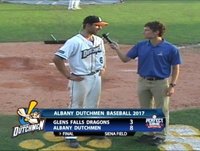 Are you interested in pursuing a career in the sports industry? The Dutchmen are offering a variety of internship opportunities for the 2018 season. Gain valuable experience and new connections while having fun! Former Dutchmen interns have gone on to work in professional sports, minor league baseball, college athletic departments, and national broadcasting networks.
Available internship opportunities include:
Front Office
On-Field Promotions
PA Announcing
Graphic Design
Social Media
Broadcasting, Journalism & Media Relations
Multimedia Production
Official Scoring
Community Relations
Food & Beverage
Most internships run from mid-May until the beginning of August. Some internship opportunities are also available immediately, for the spring academic semester.
Interested applicants should submit their resume and a brief letter of interest to Dutchmen VP & GM, Jason Brinkman, at [email protected]. If so desired, applicants are eligible to receive college credit.
|
Back to index...