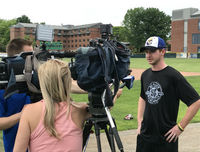 ALBANY, NY – Pitching will dictate how the Albany Dutchmen begin the 2018 Perfect Game Collegiate Baseball League season.
With several position players not scheduled to arrive until after this weekend's opening series against the Oneonta Outlaws, manager Nick Davey said his pitchers must do their part to make certain the Dutchmen start on the right foot. "From what I saw out of our pitching staff in our first bullpen session (May 30), I think we can be very competitive if we throw strikes," said Davey.
Albany will have its top two starting pitchers from last year's team – Matt Pierce (Siena College/Schenectady, NY) and Greg Marino (Stony Brook/Centereach, NY) – available for its home games against Oneonta Saturday and Sunday at Connors Park. Pierce, the reigning PGCBL Pitcher of the Year, was 5-0 as a starter and 8-1 overall with a 1.71 earned run average in 2017, while Marino posted a 2-1 record with a 1.67 ERA in six starts.
"To have our top two pitchers back is big," said Davey. "With those two guys leading us at the top and with what I saw in our bullpen session, I think we're going to be very strong."
Pierce said he doesn't mind the pressure of having to perform right away. "It definitely puts a lot on the table, but it's something I'm used to," he said.
Albany will have nine active position players for this weekend's homestand, including infielder Nick Grande (Stony Brook/Smithtown, NY) and outfielder Brandon Seltzer (Palm Beach Atlantic). Grande and Seltzer are threats to steal every time they reach base. Grande stole 32 bases in 38 attempts for Stony Brook this spring, while Seltzer recorded 15 steals in 21 attempts for Fairleigh Dickinson University.
"Speed is one of the things I like to use," said Seltzer. "When I found out this team is built around speed, I got excited."
"I give guys green lights. I want them to be aggressive (on the basepaths)," said Davey.
Reinforcements are on the way. Third baseman prospect Justin Wright (St. John's '18) and outfielder Ubaldo Lopez (Dartmouth) arrive next week, and pitching prospect Luke Murphy (Vanderbilt '18) will join the Dutchmen next weekend. Five other players – utility player Lucas Dunn (Louisville) and pitchers Max Cioffi (Ole Miss), Zachary Merchant (Southern New Hampshire), Nick Artymowicz (Southern New Hampshire) and Stephen Koza (LSU Eunice) – are expected to join the roster once their college teams are done in their respective national tournaments.
Albany will have to wait a little longer for two key position players to arrive. First baseman John Malcolm (Vanderbilt '18/Detroit County Day Upper HS), the top-ranked high school player in Michigan by Perfect Game, will be joining the team in the third week of June, and infielder Nick Estrella (Azusa Pacific/Tuscon, AZ) is scheduled to arrive in July. Estrella was one of Albany's top hitters last year, posting a .308 batting average with 10 doubles, 35 runs scored, 28 runs batted in and 19 stolen bases.
Davey said he isn't concerned about the impact of not having his full complement of players, though. "There's no championship that's won in June," said Davey. "So as long as we have some guys coming in, I think we'll be good."
Albany hosts Oneonta Saturday, June 2, and Sunday, June 3. Both games start at 5:05 p.m. at Connors Park, located on the Siena College campus in Loudonville. For more information, visit dutchmenbaseball.com.