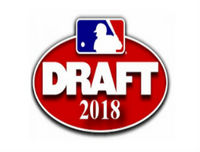 ALBANY, N.Y.- The 2018 MLB Draft saw four former Albany Dutchmen players drafted by Major League teams. Troy Montemayor (25th round, St. Louis Cardinals), Sean Boyle (25th round, New York Yankees), Justin Childers (33rd round, Detroit Tigers), and Ted Cillis (33rd round, Kansas City Royals) were all selected in the 2018 Major League Baseball Draft.
Troy Montemayor played for the Dutchmen in 2016 and dominated with a 0.52 ERA in 17 innings pitched, allowing only 14 hits and two walks, while striking out 25 batters and earning seven saves. Montemayor posted a 2.39 ERA this past year at Baylor, throwing a total of 26.1 innings and collecting 11 saves.
Dallas Baptist pitcher and member of the 2017 Albany Dutchmen team Sean Boyle was selected in the 25th round by the New York Yankees. Boyle posted a 3-2 record, allowing 29 hits in 22.1 innings, while striking out 21 batters in his time with the Dutchmen. This past season with the Patriots he pitched in nine innings, allowing nine earned runs, four walks and striking out 11 batters.
Justin Childers, a member of the 2016 and 2017 Dutchmen teams was also drafted. In 2016 Childers hit .321 with 60 hits, 32 RBIs, and 25 runs. Childers returned to the Dutchmen in 2017 when he hit for a .270 batting average, collecting 31 hits, 28 RBIs, and 24 runs. This past season at Ohio Dominican Childers hit .327 in 50 games, hitting 8 home runs and driving in 38 runs.
The final Dutchmen that was drafted was Ted Cillis who played for the Dutchmen in 2013 where he hit two doubles, one home run, drove in three runs and scored four runs in limited action with Albany. In his senior season with the Pride he hit .249 with 45 hits, and 20 RBIs. He also pitched 37 innings, posting a 5.59 ERA, allowing only 38 hits, while striking out 40 batters. Cillis is a local product, coming out of Latham, New York and attended the Blair Academy in New Jersey.
Following the 2018 draft, 22 former Dutchmen have been selected in the MLB Draft over the ten years the Dutchmen have been in existence.